Ex-bank worker's gamble becomes an adventure tourism company with 17 staff that is targeting turnover of $5 million this year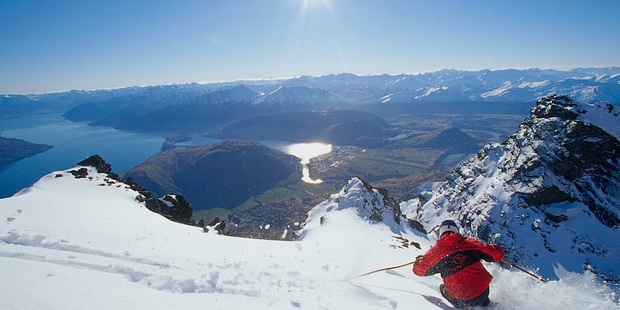 Ryan Sanders was running out of time. He had a great business plan and plenty of capital but was living in London and needed someone on the ground in New Zealand to run his new adventure tourism business.
Haka Tours was due to be launched in less than three months. Sanders flew back to Auckland and headed into the city to hold job interviews. He pretended he was a lawyer operating out of the Vero building and asked security to cordon off an interview space.
"I'd never worked in tourism before and had just arrived in Auckland and didn't even know if this ploy was going to work," Sanders says.
"I just walked in and pretended. I'm lucky it worked because the interview candidates had the invitation letters telling them to come to the ground floor of the Vero building."
Six years later and the Haka Tourism Group now employs 17 people and is targeting $5 million in turnover this year.
Aimed at the high end of the backpacker market, the company ran about 100 tours last year and is about to start developing its third lodge.
In recognition of his success, Sanders has just been named as a finalist for this year's Ernst & Young Entrepreneur of the Year Awards.
Sanders was working in Manchester as a recruitment manager for the Royal Bank of Scotland when he came up with the idea for Haka Tours. He was making good money and getting promoted regularly but having nagging thoughts.
"I was thinking, 'This whole corporate world is not for me.' The work was fairly good but I'd always thought about running my own business.
"What I struggled with in the corporate world was a real lack of autonomy and accountability. If I had an idea I wanted to be able to run with it and I found it quite frustrating," the 35-year-old says.
Sanders started writing a business plan for Haka Tours in 2006, looking at common models and routes to market. He had no experience in tourism but was a keen snowboarder.
The niche he identified was in offering adventure tourism packages aimed at "the high end of the low end".
Haka targeted a different demographic from that of competitors like Contiki, Flying Kiwi and Kiwi Experience, he says.
"Our tours are high-end backpacker tours. We are much more expensive and our sweet spot is in the 25 to 35-year-old age bracket."
Haka was about having tons of fun without spending the whole time in a pub or travelling around with a hangover.
He also noticed that none of his competitors in the Kiwi market were selling tour packages exclusively online.
"We're very rare in that we go direct online to our market. We're not sold by any wholesalers and retailers and that's how we invest all our advertising spend."
Still living in Britain, Sanders started investing heavily in building a customised booking engine and shopping cart. He bought a 15-seater Mercedes van back in New Zealand.
"I had saved some money so I entered the market not needing bank loans or high overheads and we could buy our first bus outright."
He held those interviews in the Vero building in March 2007, hired a capable tour operator and launched the business in June.
"We went online with an e-commerce website and started advertising tours," he says.
Sanders remained in Manchester for another year, doing 90-hour weeks working for RBS and managing Haka Tours in the evenings. One of the first marketing campaigns was a YouTube-based search for Britain's "craziest student".
The winner was offered two free trips to New Zealand with Haka Tours. Videos were uploaded of "guys on dirt bikes and a girl on rollerskates wearing her bikini cruising around," Sanders said.
"We're always looking for innovative ways of getting online in front of our customers. That campaign resulted in about 50 per cent of our bookings that year."
He returned to New Zealand to go full-time with the business in 2008. Things soon hit a speedbump with the start of the global financial crisis.
"From 2007 to 2010, it was really about understanding where our position was in the marketplace, building up our brand, continuously improving our tours, and investing in IT.
"We were taking on new staff every year but not doubling in size."
The real growth has been in the past couple of years, Sanders says. Sales for the last financial period were around $2 million.
Haka Tours offers a variety of packages ranging from seven to 24 days, taking in the best of New Zealand's adventure offerings. Customers book a base tour and then add on extreme activity packs or upgrade their accommodation.
"We really look to blur that line between doing it yourself and a traditional fixed group tour," Sanders says. The Christchurch-born entrepreneur wants to build a nationwide chain of Haka Lodges, which he described as "upmarket backpackers".
Two lodges already exist - in Christchurch and Queenstown - and a third in Auckland will open early next year.
"It's going to be the nicest backpackers in New Zealand, without a doubt," he says.
Haka School Tours and Haka Custom Tours were launched this year, extending the brand into the international education and private tour group markets.
Sanders' next plan is for an online resource which enables people to book activities in the Pacific region.
Called Activity Booker, the model will be similar to the global accommodation hub Hostel World, he says. Activity Booker will have a strong social media focus and will target a more general audience.
For someone who has built such a successful tour group business, it seems strange that Sanders never had an interest in actually being a tour guide.
"That wasn't why I set up the business. I think a lot of people set up these tourism businesses and they create a job for themselves because they want to be out there doing it but that really limits your business."
Instead, his passion has always been for the strategic side of the business - building the brand and creating the vision.
"For me, I love growing the business and being involved in the strategy.
"I just want to keep on expanding, growing and launching niche brands."
Ernst & Young will announce the winners of its Entrepreneur of the Year Awards on Friday, August 23.