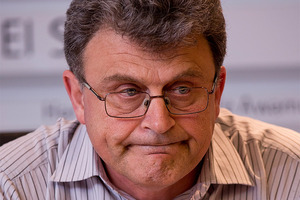 Fonterra has admitted sending Palmerston North Girls' High School a potentially contaminated whey protein concentrate after it was requested for use in a science project.
The dairy company this afternoon revealed it sent 12kg of the concentrate, which may have been contaminated with a bacteria that can develop into botulism, to the school after a request in December last year.
Health Minister Tony Ryall said some students may have consumed drinks with the product in them.
However, it was unlikely any were infected with the botulism-causing bacteria, he said.
"While some students may have consumed drinks with the product in them, it was last consumed on 19 April 2013."
"The Medical Officer of Health has spoken to the school's principal today and provided reassurance that any illness from consuming the product is highly unlikely, and that the students are no longer at risk.

"I am advised that all remaining product was returned to Fonterra this morning."
Palmerston North Girls' High School Principal, Melba Scott said the school was in the process of informing the school community, and would support students and parents if there were any concerns.

"While I expect that there may be some anxiety, the project finished back in April and none of the students reported any ill-effects from the smoothies," she said.

Fonterra chief executive Theo Spierings said he was disappointed to learn of the incident.
"While I realise that agreeing to provide the whey protein concentrate to the school for their project was well-intentioned, providing product from the Innovation Centre in this way should never have happened."
The Ministries of Education, Primary Industries (MPI) and Health were working to give information to the school, Mr Ryall said.
Ministry of Health advice is that in the age group of high school students the illness would usually occur within one to two days.
Botulism caused by spores that infants get has an incubation period between three and 30 days.
"The illness is very rare, and can be treated, and with appropriate care most people recover fully," Mr Ryall said. "If your doctor suspects that someone has botulism, they will be referred to hospital where they will be assessed."
- nzherald.co.nz