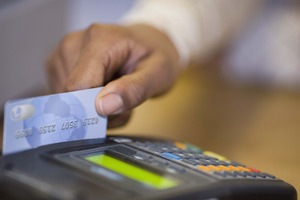 A mild July is being credited for helping a "spectacular lift'' in electronic spending, in which more than $4 billion was swiped through machines in the month.
Electronic transaction company Paymark said there was a 9.2 per cent increase in national spending through its network of Eftpos machines in July 2013 compared to the same month last year.
Spending rose from $3.7b in July 2012 to just over $4b last month.
The increase was put down, in part, to an unusually dry July this year.
"There are several circumstances which are likely to have contributed to what appears, at face value, to be quite a spectacular lift in national spending,'' said Paymark's head of sales and marketing Paul Whiston.
"July 2012 was a slow month, with five Sundays and poor weather. In contrast, we've just finished a July blessed with warmer weather and more workdays, which always impacts positively on spending figures.
"In addition, petrol prices are around 10 per cent higher than a year ago, a factor which has likely influenced the increase.''
A continued increase in the number of contactless payments in recent months had also lifted the total number of electronic transactions through the Paymark network.
"The number of monthly card transactions was 7.1 per cent up on a year ago,'' said Mr Whiston.
"Contactless transactions were certainly a part of this, but it's important to note that a lift in the number of transactions doesn't necessarily point to an increase in spending. It may be that some contactless payments are beginning to displace cash.''
However, the spending boost was not seen over all retail areas, with clothing, footwear and department stores performing poorly.
"There are still retailers out there who are really struggling with the current market conditions and our figures are reflecting that,'' said Mr Whiston.
"Conversely, the likes of hardware stores, furniture and floor covering outlets, as well as takeaway food outlets and cafes and restaurants continue the momentum of strong annual growth.''
Palmerston North saw the strongest growth, up 11.6 per cent, followed by the Canterbury region with an 11.4 per cent growth. Marlborough and South Canterbury also performed well, rising 11.3 per cent each.
The West Coast was the only region to see spending fall, dropping 0.6 per cent on last year.
- APNZ