Seasons Gourmet creator Mark Harman has his sights set on more food ventures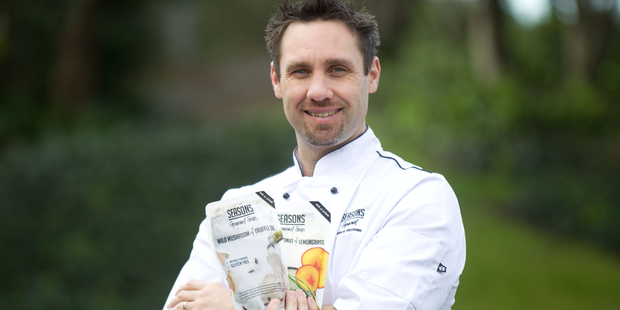 Restaurant-quality soups available at the local supermarket are just the first stage of chef Mark Harman's planned culinary empire.
Harman, 35, is the gastronomic talent behind the Seasons Gourmet brand, a range of supermarket soups including flavours such as kumara, coconut and lemongrass, smoked kahawai chowder, and wild mushroom and truffle oil.
The range, which also includes two pesto products, was launched early last winter and little more than a year later is stocked in 150 supermarkets, with sales tripling since last April.
The recipes for the soups are a culmination of Harman's two decades work in restaurant kitchens. "What I would serve in the restaurant you've got in a pouch," he says.
During his career he has manned stoves everywhere from his Palmerston North hometown to the Caribbean, including stints at Huka Lodge and Dine.
It was during his time as head chef at Peter Gordon's Dine and Bellota restaurants that he cooked up the plan to bring quality soups, as served in smart restaurants, to the home diner.
"I wanted to put products into supermarkets and bring my recipes to a broader market."
The recipes Harman had in mind had been fine-tuned over the years and were the ones that were consistently good sellers and garnered customer compliments.
He was fortunate to be able to call on his aunt, Lucielle McIlroy, managing director of supermarket chilled food supplier Brelita Foods.
Brelita, which McIlroy has run for more than 10 years, is the company behind the Turkish Kitchen brand of dips and falafel mix.
Harman says McIlroy was the "business guru" who has the food industry and supermarket contacts, plus the production and sales infrastructure that got his vision off the ground.
Harman left his job at Dine and spent three months in Brelita's Mt Roskill factory, translating the recipes from fine dining to bulk cooking volumes.
"The challenge was when I came to make 200 litres of soup and get the same quality or the same flavour profiles. That was the challenge.
"I go from three litres to 10 litres then, bam, we're going 200 litres and then that's going to go into supermarkets."
By the time the Seasons range hit the shelves in March last year, Harman was back behind the stoves as head chef at North Shore restaurant Salt.
He goes to the factory every week to check on the quality and develop new flavours for the range but says he can't stay out of restaurant kitchens for long.
Harman's hectic life also includes three children, and his wife joins him in the kitchen to bake for Salt's sister eatery, daytime cafe Little Salt.
"I live a very busy life. Very, very busy."
His goal is to create several ranges to export and expand the Harman empire. The first step is to take the Seasons soup range to Australia, including an expanded range of soups and dips that is just about to be launched.
More soup flavours are in the pipeline for next winter, and he'd like to have up to a dozen flavours in the Seasons line-up.
Harman also has plans for a chefs' range of ingredients focused on indigenous New Zealand herbs and spices, exported to kitchens around the world.
"Chefs don't really want a finished product. They want something they can use to enhance a dish, to add an extra twist or a little bit of flavour."
Add to that a dream to run his own restaurant, with a sideline in cookbooks and television appearances and Harman's name looks likely to be known beyond the supermarket shelves in the not too distant future.