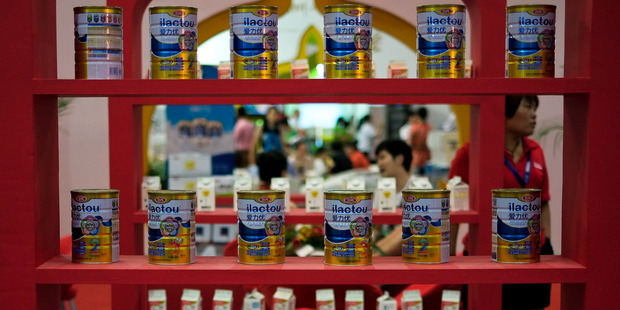 "You have to pity the kids of today," said one melancholy Chinese tweet yesterday. "Chinese-made milk is undrinkable and now foreign milk is undrinkable, too. It's too miserable."
In the aftermath of the latest milk scandal, Chinese parents have been left in a panic, unsure of what they can still safely give their children to drink.
Worries about baby milk run deep in Chinese society. Just five years ago, at least six infants died and 300,000 others were sickened by baby milk laced with melamine, an industrial chemical. Fonterra owned 43 per cent of the main culprit, Sanlu, and blew the whistle on the scandal.
Since then the Chinese parents who want the best for their single children, and who can afford it, have trusted foreign baby formula brands, which now have 80 per cent of the market in the country's biggest cities.
But now they do not know what to buy. "I think all the brands have safety issues," said Wang Changyong, a 34-year-old software engineer who lives in a modest apartment in south west Beijing with his wife, father and 2-year-old son.
His solution? "I always use foreign brands but we change the brand every six months." That way, he explains, he dilutes the risk of any chemical build-up.
"My colleagues and I still all prefer the foreign brands because there have been problems before with domestic companies. Also, since everyone else buys foreign brands I would look weird if I preferred a domestic brand," he added.
"But I am a lot more concerned now. And I am surprised that a lot of companies all rely on the same base powder from Fonterra."
In a branch of Carrefour in northern Beijing, one couple said they had been using Dumex, the brand affected by the botulism scare, since their 11-month-old was born. They had come to the supermarket to see what other options they might have.
"From now on, I will make sure I won't buy any more formula from New Zealand," said husband Zhang Linan.
"As far as I know, the batch I bought was not contaminated, but who knows whether the batches mentioned on the news are the only ones affected?"
Mr Zhang and his wife, Lin Li, are IT consultants. For years, the Chinese Government has advised mothers to give their babies formula rather than breast milk. In part, this was to create a market for the domestic milk industry and in part it was to encourage mothers to return to the work place quickly.
But it has left Chinese parents uniquely vulnerable and milk powder sellers have created confusion in the market by suggesting that rival brands may be unsafe.
Despite the confusion and anguish felt by parents, one of the leading campaigners during the last milk scandal praised Fonterra for its handling of the crisis.
"I think Fonterra has a good product," said Zhao Lianhai, who fought for the children sickened in 2008 to receive medical compensation, to the point where the Chinese Government briefly imprisoned him.
"This case will definitely cause some consumers in China to lose confidence in foreign brands, but I appreciate the way in which Fonterra has already recalled products and sent its chief executive to China to apologise. Some Chinese companies could learn from this."
Back at the supermarket, however, Hu Changhong said he had been feeding his 6-month-old child Karicare powder since birth. He carried his son in his arms down the aisles, looking helpless and angry.
"If my wife could produce enough breast milk then we would not use formula. But the magazines say that after six months, breast milk by itself is not enough.
"My strategy now is just to buy the brands which have not yet been exposed as dangerous by the media," he said. "But now I know there are no safe brands, whether they are foreign or domestic. You tell me: what is safe?"