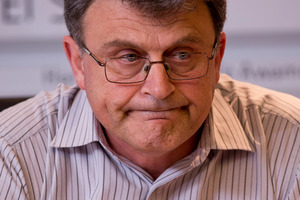 Sri Lanka is believed to be the latest country to order an immediate suspension of New Zealand milk powder imports over botulism fears from contaminated Fonterra products.
China has also implemented an import ban after it was discovered a dirty pipe at Fonterra's Hautapu plant in Waikato might have contaminated three batches of a whey protein, known as WPC80, with the Clostridium Botulinum bacteria.
Sri Lanka's health ministry spokesman Dharma Wanninayake told Reuters the director general of health services had instructed Customs to temporarily halt the clearance of milk powder from New Zealand.
"The concern is the change in the whey protein concentration due to clostridium bacteria and the other concern is China completely banning the importation. So we followed them and temporarily suspended (imports),'' he said.
The office of Trade Minister Tim Groser was tonight unable to confirm the Sri Lanka development.
On the weekend, Fonterra announced contaminated whey protein concentrate had been exported to China, Malaysia, Vietnam, Thailand and Saudi Arabia and used in products including infant milk powder and sports drinks.
China has banned New Zealand whey powder and products in which it's an ingredient and Vietnam has reportedly ordered a recall of Fonterra milk powder.
At a press conference today, Fonterra's head of NZ milk products Gary Romano said customers affected by the health scare have accounted for "all but a small amount'' of potentially contaminated goods.
He was not aware of any consumers becoming sick from contaminated products. He was unable to say how much of the 38 tonnes of potentially contaminated whey protein might have been consumed.
"It's very difficult today for us to make that statement,'' Mr Romano said. ``We'll be working with our customers to try to get more certainty around that.''
On TV3's Campbell Live, Romano said all Karicare infant formula products were affected by the potential contamination, but he clarified that today b y saying only Karicare Stage 1 and Stage 2 Gold Plus products were believed to be affected.
The Infant Nutrition Council (INC) said Nutricia, the makers of Karicare, had recalled all batches of those two products.
INC chief executive Jan Carey said no other brands were affected, and the recall did not affect any Nutricia products sold in Australia.
Auction website Trade Me has also pulled the two products from its website.
Spokesman Jon Duffy said there were fewer than 10 of the products at issue 'live to site' at the time.
"All of the sellers listing the products were very understanding of the situation.''
Health Minister Tony Ryall said both Healthline and Plunketline have geared up their resources to help keep parents and the public updated about recent infant formula recalls.
"Both health call-centres report receiving increased call numbers since Saturday. For example, Plunketline received four times the average number of calls on Sunday and five times the average number of calls on Monday.''
Meanwhile, Fonterra's head of communications, Kerry Underhill, said the company believed it had fulfilled its market disclosure requirements to the stock market during the crisis.
The Financial Markets Authority said it was concerned about the time it took for Fonterra to disclose the potential contamination to the NZX.
The company received test results that indicated the presence of Clostridium Botulinum on Wednesday, but didn't announce the problem until the early hours of Saturday morning.
**************
Fonterra and Sri Lanka
* 98 per cent per cent of New Zealand's exports to Sri Lanka are dairy products;
* exports were worth $308 million for the year to March 2011; and
* Sri Lanka is New Zealand's fifth-largest market for milk powder.