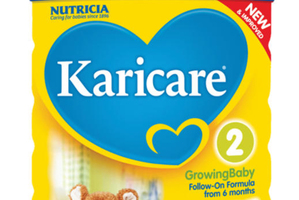 Potentially dangerous Karicare infant formula remained on sale in China's massive online "grey market" last night.
Despite the warnings issued to New Zealand mums and dads, potentially contaminated Karicare products are still available for sale on Taobao, the Chinese equivalent of Trade Me. One online trader was last night advertising cans of Karicare Stage 2 formula for $38.80.
The product was shipped from New Zealand to Hong Kong early last month, according to a freight notice posted on the website.
Numerous other Taobao traders were also advertising Karicare Stage 1 and Stage 2 formula yesterday.
While Fonterra chief executive Theo Spierings yesterday said all Karicare formula sold through official channels in China was safe, sources say most of the Karicare sold online enters the country unofficially.
Four Countdown supermarkets, as well as Gilmours wholesale stores, are registered to sell infant formula to certified exporters.
The product arrives in China via Hong Kong, which allows traders to circumvent laws that require infant formula for the Chinese market to be manufactured to specific standards.
Karicare made for the New Zealand market does not meet Chinese standards, but is allowed to enter Hong Kong. It then passes unofficially into mainland China.
A spokeswoman for Nutricia, Karicare's manufacturer, said Chinese customers might have purchased affected products "through cross-border trading or other unofficial channels".
What products are safe?
* All infant formula products EXCEPT Karicare Stage 1 and Karicare Stage 2.
* Fresh dairy products such as milk, cheese and yoghurt.
* Frozen products such as icecream.
* Milk powder.
Getting advice
Healthline: 0800 611 116
Ministry for Primary Industries consumer helpline: 0800 693 721 or mpi.govt.nz
Plunketline: 0800 933 922
Nutricia customer careline: 0800 258 268.