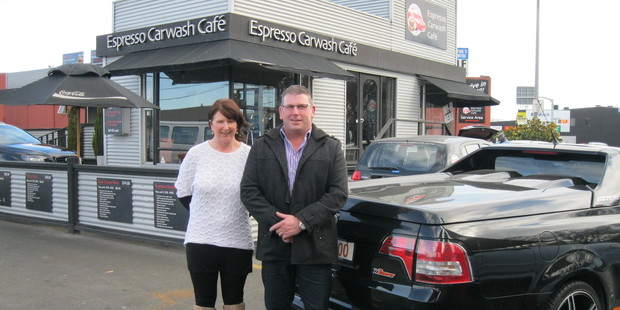 The first Espresso Carwash Café opened on the corner of Lincoln Rd and Moorhouse Ave in Christchurch June 2004, there are now 11 locations throughout the country including three in Auckland -with Carwash Café locations and Carwash-only locations.
What service do you provide?
Espresso Carwash is a 100 per cent handwash carwash offering services including
exterior and interior from an express wash up to a fully detailed groom with a number of additional services from interior shampoo, leather treatment, engine steam, cut and polish, odour eliminator treatment and more. A 100 per cent handwash service gives a far better result than an automated car wash from your local service station.
What do you do that is special for your customers - that goes beyond the
norm?
While undertaking the grooming services on customers vehicles, there are a number of procedures that our staff members undertake. From checking tyre tread depths, warrant of fitness expiry dates, to notifying the customer if there is anything in particular of concern that could be a safety issue.
Also putting a notification form in the vehicle if there is anything in particular that we feel the vehicle requires in the way of services that we offer, next time they visit that location.
Customers satisfaction is of foremost importance as a majority of our customers are return clients.
What customer service training do you do with staff?
It is important that we spend sufficient time with all new franchisees to ensure they are familiar with our staff handbooks and procedure manuals which filters through to staff members for customer service training. As a good franchisor, it is paramount we are always looking for ways to keep all franchisees and their staff at the top of their game.
How do you handle a disgruntled customer/making mistakes?
Matters like this are properly managed and processed and as a franchisor, we do get customer feedback through our website good and bad. In a situation where our customer has had an issue with our services, it is important to reply as soon as possible and get the situation resolved. The position we are in is to redo the vehicle or forward the customer a complimentary gift voucher. We all make mistakes and as a group, Espresso Carwash clean on average over 2000 vehicles per week.


Next week - we are going to be looking at the export sector and how small businesses can take their stories to the world. How do you tell international customers about your great product from this remote country?