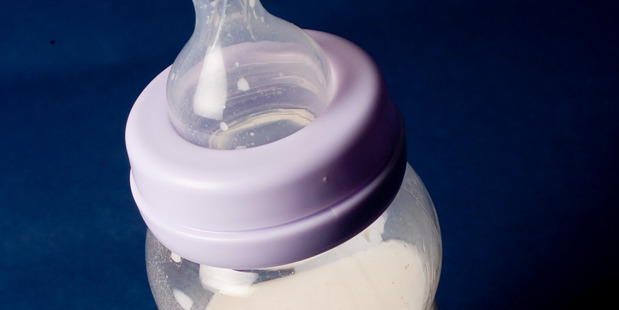 Eight companies may have received the contaminated whey protein from Fonterra:
Danone
Danone is the French-based parent company of Karicare producer Nutricia. Yesterday afternoon it issued the precautionary recall for:
* 67,875 cans of Nutricia's Karicare Infant Formula Stage 1 (0-6 months) with batch numbers 3169 and 3170 (use by 17 06 2016 and 18 06 2016) and Karicare Gold+ Follow On Formula Stage 2 (6-12 months) with batch number D3183 (use by 31 12 2014) in New Zealand.
* A reported 208.5 tonnes of Dumex raw milk powder in China.
NZAgbiz
The New Zealand-based wholly owned subsidiary of Fonterra describes itself as the leading supplier of livestock milk replacement to the New Zealand market. Yesterday it recalled 65 tonnes of affected products sold to North Island retailers and customers:
* Ancalf calf milk replacer with batch numbers JX24 X6494 to JX24 X6509 and JX26 X6542 to JX26 X6573
* Brown Bag calf milk replacer with batch numbers: IX21-B0974, IX21-B0975, IX21-B0979, IX21-B0983
Vitaco Health Group
The New Zealand-based health and lifestyle company produces over one billion products for more than 30 countries each year - mainly vitamins and nutrition supplements.
Its Aussie Bodies Ultra High Temperature (UHT) range of sports supplement drinks contained Fonterra's affected WPC80.
However, the UHT manufacturing process is universally regarded as a commercial sterilisation process and the products were safe, said a statement on the company's website.
Other products under the Aussie Bodies brand - such as sports nutrition protein powders or bars - did not contain the affected ingredient.
Coca-Cola Greater China
China's Minute Maid Pulpy was the first billion-dollar Coke brand to emerge out of China.
The company yesterday said investigations in line with government authorities revealed it purchased a 4800kg shipment of the affected powder. It quarantined 4775kg, but 25kg were used in the production of isolated batches of its Minute Maid Pulpy Milky drink. UHT manufacturing processes teamed with low acidity were believed to sanitise the final product, and there was no risk to consumers.
As a precaution, affected batches were being traced for recall.
Maxim International
The Australian livestock feed company believed all affected product was contained and was not available in the market.
Wahaha
The Chinese food and beverage company said temperature treatment in manufacturing means no risk to consumers.
An unknown Vietnamese company had recalled an unknown product, and an unknown animal feed company from an unknown country said it had contained an affected product.
Advice changes
Saturday: Parents told not to use Karicare Gold+ Follow On
Formula Stage 2 and to use Stage 1 instead.
Sunday: Parents told Stage 1 should also be avoided.