Homeware and sporting goods chain looks forward to life in cash reserves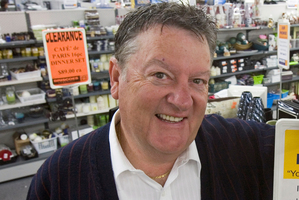 Briscoe Group may use its expanding cash pile to invest in or acquire online retail businesses, managing director Rod Duke says.
Such purchases would put the company on a similar trajectory to New Zealand's biggest listed retailer, The Warehouse, which has invested in two web-based stores, Torpedo7 and pet.co.nz, this year.
Duke said Briscoe - the operator of Rebel Sport, Briscoes and Living & Giving - wasn't quite as eager as its larger competitor to expand into the online space via acquisitions, but he wouldn't rule it out.
"It's something we could look at," he said. "(Online) is an interesting place to be."
Duke wasn't giving any clues about specific businesses Briscoe might look at buying, or when any purchases might take place.
"What I can say is if we were to buy a business it would play to our core competency (of high-volume consumer goods)," he said. "I don't have any desire to get into a range of businesses that some people might think that we can operate in."
Duke said that Briscoe would increase cash reserves in the current financial year from the $78 million it had at the end of January. "We haven't had any debt for 15 years," he added.
Duke, who owns almost 80 per cent of Briscoe, said he did not feel threatened by a resurgent Warehouse, which is carrying out a national upgrade of its Red Shed stores and boosted revenue and profit in its half-year result. "They haven't been a threat for six or seven years."
On Thursday, Briscoe said it was expecting a record net profit of at least $14.6 million for the six months to July 28, up from $13.3 million in the same period a year earlier. Half-year sales of $217.4 million, an increase of 6.8 per cent on the same period last year, were also expected.
"I think there's been some significant market share gain in the categories we operate in," said Duke. "We were pretty pleased with (the result) in a market that is not as buoyant as our numbers would indicate."
First NZ Capital upgraded its recommendation on the homeware and sporting goods chain yesterday to "neutral" from "underperform" and raised its outlook for earnings, citing better sales.
"Briscoe clearly has a winning merchandising and marketing formula, as evidenced by its results in the context of a not particularly supportive retail landscape," the brokerage said. "We assumed some margin expansion going forward, taking into account operating leverage corresponding with an improved sales profile."
First NZ upgraded its earnings expectation for 2014 by 9 per cent, for 2015 by 12 per cent and for 2016 by 15 per cent, on a better economic outlook and optimism Briscoe would continue to gain market share.
Briscoe shares, which have gained just over 30 per cent in the past 12 months, closed up 1c at $2.37 last night. Shares in The Warehouse have gained 43 per cent over the same period.

- Additional reporting BusinessDesk