Mainfreight's graduate programme allows trainees to really learn the ropes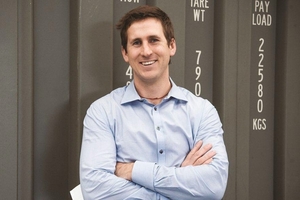 Three years ago, Jonathan Davison, 32, achieved his goal to climb Mt Everest. One year later he joined Mainfreight's graduate programme. Inspired by Sir Edmund Hilary since he was 8 years old and by a book on mountaineering, Davison had done polar guiding in the New Zealand Antarctic programme and international guiding in the United States, Canada and the Himalayas.
"I'd been working towards Everest for so long. I had to stop, reassess and consciously plan where I'd like to go," Davison said.
Then someone gave him a Mainfreight annual report. The company's targets and achievements page resonated with him so he took an informed risk. "It was a bit of a leap of faith starting at Mainfreight when I was guiding billionaires up mountains and then literally sweeping the floor at Mainfreight for six months," Davison said.
The global transport and logistics company is one that continued its graduate programme through recent years of recession, when others had either stopped or trimmed them back. The programme gives graduates and other talented recruits opportunities to get to know the business starting on the shop floor.
Experience in different operations equips them to make their next career move within the company.
From the shop floor, Davison progressed to the transport team then into an account management and sales rep role.
"There is so much to learn and know about the industry every day, there's no substitute for experience. You're not going to be able to progress to a management or leadership role within the company without understanding the process from the ground up. And it's earning your stripes as well."
Martin Devereux, Group HR and training manager at Mainfreight, said that during the recession the company became more strategic about hiring the right people. It's not so much the degree content that matters. "We look for personality, attitude, hunger and leadership; people prepared to step out of their comfort zone, make decisions, build their career and build our business."
The flat structure makes it easy for graduates to build relationships within the company, to meet other graduates who have been successful and see the possibilities.
A number of government and private sector organisations that either stopped or toned down their graduate programmes during the recession are starting to come back into the market, said Tim Watts, co-founder and director of Graduate Connections. While organisations may have continued to hire graduates to entry-level roles, he said it was on an ad hoc basis with no real structure.
However, from a business perspective, he said having a graduate strategy is becoming more important.
"The benefit is that they can identify the key talent, bring them in young and look at moulding them into future leaders. The downside is that it needs time, effort and resources."
He sees a continuum of recruitment and training practices, from companies that hire graduates into roles with a small amount of training and support around them through to programmes where they rotate around different areas of the business and have support from coaches, mentors and managers. Only a small number of businesses send their graduate recruits overseas early in their career - that usually comes after four or five years when the investment in their training pays off.
"Fonterra has one of the better graduate programmes across the board. Being such a global company the opportunities are huge. Mainfreight and the Warehouse Group are other good examples of established programmes."
Watts also helps organisations design graduate programmes. He worked with IAG last year to develop their programme. Facing a skills' shortage in 2010, along with a more diverse and ageing workforce and market, IAG needed to think differently about how to source future leaders and technical specialists, says IAG talent manager, Paula Williams.
"Once graduates are recruited into our two-year graduate programme, the development they receive involves a mix of on-the-job training and coaching from our most experienced leaders as part of our coach leader programme."
A series of projects gives graduates an opportunity to work together and learn all aspects of the business.
Last year's intake of graduates took part in an Innovation Workshop with CEO Jacki Johnson in which they generated ideas for engaging and educating customers. They came up with a short video which made the main aspects of the insurance policy wording much more accessible.
"It was great to see how young people who may only have been there six months can add value to the business and feel part of it," Watts said.
A planned programme gives graduates the benefits of training, support and work experience.
He advises graduates that obtaining the first position is not only a matter of grades. Most organisations want a well-rounded person, someone who has interests and experience outside of study.
"Being the right fit for an organisational culture is important - something we are not quite getting through to students. If you do miss out on a role or the next one it may not be anything to do with you. You may not be the right kind of fit for that business. It is as much a choosing thing for the student as for the employer."
Need advice?
If you have a career-related question, we have a new advice column. Simply send your question to
careers@nzherald.co.nz
, and please put "Career Specialist question" in the subject line.