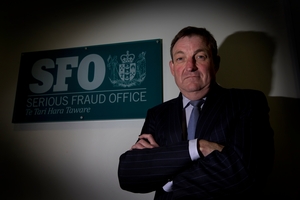 Serious Fraud Office investigation and prosecution numbers have dropped by about a quarter but its boss, Simon McArley, warns that is no indication there is less white collar crime.
McArley, the SFO acting chief executive, says that in the July 2012 year the SFO undertook about 40 investigations, resulting in about 20 prosecutions, falling in the year to July 2013 to 30 investigations and 16 cases being prosecuted.
The annual report won't be out for a few weeks but he says the numbers do not tell the full story and there is no reason to think that as a country we are any more protected against bribery, corruption, embezzlement or corruption than elsewhere.
"It doesn't mean there's less fraud, but it's the size and shape of it that's changed. We've done a lot of very document-heavy cases," he says, citing Operation Edit and a big pokie machine fraud investigation.
Operation Edit was the probe of an alleged $1.6 million invoice scam involving the sale of advertising in magazines that did not exist or were not as widely circulated as claimed.
Arrests, announced in October, followed a five-month operation involving more than 60 staff from several agencies - the first of its kind to crack down on invoice scams in New Zealand. It involved staff from police, the SFO, the Organised and Financial Crime Agency, Customs, Inland Revenue and the Commerce Commission.
The pokie scheme was investigated by the SFO and Department of Internal Affairs and McArley says these two cases are examples of how authorities are increasingly co-operating on big investigations.
"Those soak up more resources, so we don't get the [increase in] numbers," McArley says of the much bigger cases.
The SFO receives about 450 complaints every year, he says.
"Of those, you would expect somewhere between 15 to 20 to turn into cases and of those, we have 95 per cent to 100 per cent conviction rates. The volumes go up and down," he says.
Asked how he feels about business people getting long, seven-year jail sentences, McArley says the process of investigation and prosecution is extremely harrowing for the parties involved, "a high-stakes, high-stress situation".
"At the end of it, the punishment or adequacy of it is a policy question we don't address," he says, referring to pre-set criminal sanctions.
Two jailed Capital + Merchant directors are serving the longest jail terms handed down to finance company bosses - more than eight years. Wayne Douglas and Neal Nicholls, founding directors and beneficial owners, were found guilty last July of three charges of theft by a person in a special relationship.
The SFO had them jailed for more than seven years but a Financial Markets Authority case added to that.
McArley says long jail terms are entirely justified, backed by the court of public opinion.
"We do our best to bring those we feel are needing prosecution before the courts so a decision can be made," he says.
"You get a lot of informal feedback which is very positive. We also undertake formal surveying.
"We've recently surveyed victims and the public and got some fairly good ratings," he says, referring to 97 per cent for effectiveness and 67 per cent for public trust and confidence.
"We're always striving to look at what we can do with the victims of financial crime," he says referring to working with Victim Support and the Financial Markets Authority "to put in place some protocols around supporting victims".
"We can provide information to support victims of financial crime and Victim Support can provide one-on-one [help] and FMA are in a position to provide more widespread information in particular cases."
But he acknowledges the SFO is helpless to recover victims' money. That could be achieved by receivers, liquidators, the FMA or, in some cases, litigation brought by the victims, he says.
McArley has been acting chief executive since October last year.
Appointing a new chief executive is a statutory process, he says, which can sometimes be lengthy to ensure the best value for the public dollar and so the right person is appointed.
Asked if he wants to be appointed he says: "I have applied for that job so we'll see what the outcome is."
Christchurch's $35 billion to $40 billion rebuild presents potential fraud opportunities which the SFO is watching keenly.
"We have not seen any substantial or large-scale fraud but we also temper that with the fact that the rebuild is in its early stages.
"But we think it's better to be alerted early rather than wait until the rebuild is in the final stages and we discover substantial fraud," he says.
McArley plans to be in Timaru for part of the time when the SFO's largest prosecution, South Canterbury Finance, comes to trial.
The South Canterbury trial is scheduled to start in the High Court at Timaru early next year.
McArley says the SFO has not suffered any major blows or losses in the time he has been acting chief executive but some cases have fallen into a twilight zone where investigations do not achieve the result many people had hoped for or anticipated.
"The disappointments are always the cases where you can't get a nice clean outcome for the victims involved or you can't answer their questions or their demand for some some form of closure and I think we saw that in the Blue Chip case ... where there are victims out there who still haven't got the closure they're looking for and that's extremely unfortunate," he says.
"[But] I wouldn't call that a loss."
Some of the biggest victories have been finance company prosecutions, he says, as much for the sheer number involved, the complexity of investigations and the successful outcomes.
And this has come as somewhat of a surprise to many.
When the SFO started investigating there was a belief that there was no criminal offending, just bad business practice.
But the SFO did not accept that, he says, and pushed ahead with major investigations and a series of prosecutions.
The outcome, McArley says, speaks for itself.
Watch Simon McArley talk about fraud and his work at www.nzherald.co.nz under the video link.