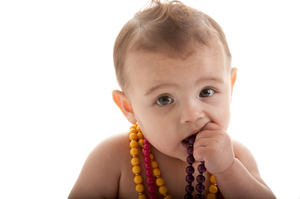 A company selling amber bead necklaces for teething infants has been told to change "misleading'' information on its website.
A complaint was raised with the Advertising Standards Authority (ASA) over the website for Baa Baa Beads, saying it contained "unsubstantiated therapeutic claims''.
It promoted amber bead necklaces for infants, claiming they reduce teething pain and inflammation, ear aches, fevers, upset tummies and a lack of appetite.
The website also claimed the beads fight infections and improve the body's immunity.
Now, the complaints board of the ASA has upheld the claims and told Baa Baa Beads to make changes to its website.
"The complaints board held that stating such a wide range of benefits, including reduction in pain and inflammation associated with teething, ear aches, fevers, upset tummies, a lack of appetite and `dramatically improving the body's immunity' required significant substantiation,'' a decision released today states.
The ASA ruled that Baa Baa Beads had not presented sufficient information to back up the claims.
It also considered the advertisement did not observe the "high standard of social responsibility required given the target audience was entitled to rely on the veracity of the claims''.
In a response to the claims, Baa Baa Beads denied breaching the ASA's code of ethics or therapeutic products advertising code.
But it accepted the complainant's concerns, provided some more evidence on the properties and benefits of the product, and reworded parts of its website "so to make our advertising clear''.
- APNZ