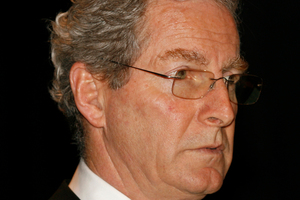 Pyne Gould Corporation has been ordered to pay more than $155,000 to a former executive after he was stripped of his duties and dismissed over a bonus he paid to himself and other executives.
Christchurch-based James West, who was PGC's financial controller and head of operations at former subsidiary Perpetual, was denied access to the company's system after he made a $140,000 bonus payment to himself and three other executives in late March last year.
West's team was also restructured, with the work shifting to the Auckland office or outsourced to Deloitte, leaving Mr West without a position.
The company's board had agreed to pay West and the other executives a bonus at a meeting in 2011, and the payment was authorised by PGC's managing director John Duncan.
However, after the bonus payments were made on March 30 last year, the account was left with insufficient funds for another payment ordered by PGC director George Kerr.
PGC chairman Bryan Mogridge then raised the matter with West over the course of the following two weekend days. West was told to return the payment and was informed that if he did not, it would be considered misappropriation. He was also told to take leave on the Monday, after which his system access was revoked and his team restructured.
West later returned the bonus payment to the company but by mid-April, his name had been removed from the PGC website and he was told to hand back his company keys and swipe card. He then raised a personal grievance with the Employment Relations Authority, claiming he was disadvantaged in his employment and was owed an outstanding bonus payment of $140,000.
Authority member Paul Stapp found West had been disadvantaged by PGC's actions, which he described as "serious defects".
PGC had failed to put all its claims to West before stripping him of his duties and dismissing him, and it had failed in its obligation to give West a reasonable opportunity to respond to the company's concerns.
However, the authority dismissed West's claim for the outstanding bonus, finding there had been doubts over the proper authority surrounding the discretionary payment.
The authority ordered PGC to pay West $123,577.07 in lost wages and interest, $22,065.55 in holiday pay and interest, and $10,000 in compensation for hurt and humiliation.
Costs were reserved.
- APNZ