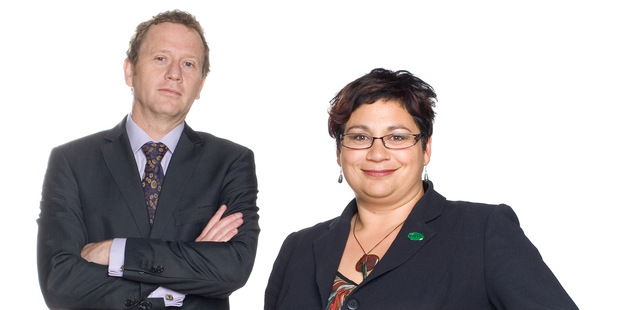 Thoughts of a Labour/Green alliance running the country has given CEOs food for thought.
Asked if Green Party co-leaders Russel Norman and Metiria Turei have added sufficient heft to the Opposition to make a credible potential government, Paul Ravlich, chief executive at Siemens, said: "God, I truly hope not."
And that about sums up the views of the majority of CEOs who took part in this year's survey.
One CEO said: "The resulting commercial and business naivety is scary. Their energy policy is a constitutional outrage - The Greens are akin to selling rat poison under the Coca Cola brand - the branding of the Greens as 'green' belies their position as hard left."
Of chief executive respondents to this question, 26 per cent say Norman and Turei have added weight to Labour's dream of running the country while 64 per cent said they haven't.
John Barnett, chairman of South Pacific Pictures, says though the co-leaders have scored a few points, they have not added value to Labour because "the questions remain as to how potentially competing philosophies can be combined.
Will the tail wag the dog?"
One CEO said: "The Greens have become the Alliance Party in drag. Their naive economic and trade policy thinking threatens to put at risk achievements made on the trade front through the effective bipartisan efforts of both Labour and National."
John Roberts, managing director at Veda, wonders why Shearer is putting any stock in the Greens at all.
"Why Labour would align with this party is bewildering. If they want to ensure they do not become the next government, stay with the Greens."
However, Mark Cairns, CEO at the Port of Tauranga, says though the Green Party is not credible for his personal politics, "Norman and Turei have certainly added heft."
It seems the Green Party has the better spin doctors, with one CEO saying: "TV news now asks the Greens to comment before Labour, such is the quality of response coming from Greens." Another says the Greens have done a good job coming across as credible to the ordinary Kiwi.
"In fact, their policies are nuts, but ordinary folk don't seem to dig below the surface, they take their spin. They are clever, they dress well, look credible, and they don't look like nutty Greens."
Kim Campbell, CEO at the Employers and Manufacturers' Association, says the Green Party will appeal to some, "but is far too wacky to attract the mainstream electorate".
Todd McLeay, CEO at Whybin TBWA, says: "The Greens could be a real political force if they became more mainstream, but still had an environmental bent."
Peter Reidie, managing director at Goodman Fielder, accuses the party of hiding behind "Green" to push a social/economic system only Cuba, Vietnam and North Korea can now claim."


Chief executives find fault with NZ Power proposal
Four out of five chief executives have damned the Labour/Greens proposal to impose price controls on electricity generators saying it will not promote economic growth.
Just under 10 per cent disagreed.
"This has to be the most hare-brained piece of policy I have heard of in a long time," said Port of Tauranga CEO Mark Cairns. He questions whether there is any evidence gentailers are earning excessive returns. "We progressed from this centralist-type control decades ago. Wait for the blackouts and lack of investment in generation capacity when it is required again.
"What of shareholder's private property rights in TrustPower, Contact Energy, and Mighty River Power? How about shooting themselves in the foot and also wiping hundreds of millions of dollars in enterprise value off their/our SOE's!"
Others slammed the proposal as a "return to Soviet shipyard policy". It needs to be challenged as ideological and shown to be detrimental to growth." said a communications sector boss.
Labour and the Greens have proposed setting up a new agency called NZ Power to act as a single buyer of electricity. Labour leader David Shearer says it will act "a bit like Pharmac ... It will ensure electricity companies get a fair return on their investment but will pass on the savings to consumers."
Labour/Greens claim business and industry will have their power prices lowered by 5-7 per cent and households by 10 per cent, with BERL economists claiming it will boost NZ's economic growth by $450 million, create 5000 jobs and allow 1.7 million to have an extra half a billion dollars a year to spend.
A company chair said that although the argument was "superficially seductive" there are all sorts of negative implications with the policy including on security of supply long term.
"The major problem for the Government is that credibly demeaning the policy in sound bites, especially given the the complexity of the industry structure, is very difficult."
First NZ Capital's Scott St John - who worked on the Mighty River Power IPO - said the timing was "cynical and damaged New Zealand's reputation as an investment destination". But some CEOs differed.
A major resources sector chief executive pointed out though currently seeing spot price electricity at an economic level, "general power prices for consumers were excessive".
A funds manager noted that in a small country like New Zealand, the Government had a role in regulating monopolistic behaviour, whether through pricing or other means.
NZCID's Stephen Selwood made the point that market upheaval would significantly undermine investor confidence.