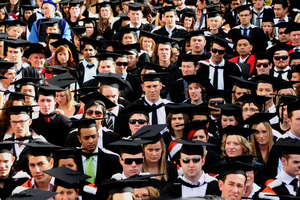 When it comes to fixing skills shortages in IT, engineering, technology and trades, 73.8 per cent of those who responded to the Herald's CEO survey wanted to see more funding for tertiary education in subjects relevant to the skills needed by employers.
Just over a quarter (26.2 per cent) wanted cuts to funding for tertiary education in arts and subjects not relevant to skills shortages, and just under a fifth (18.4 per cent) wanted loans for non-essential training to be "less advantageous".
John Barnett, chairman of TV and film company South Pacific Pictures, says the best way to develop the skilled people the country needs is to create an industry reviewed rating system for tertiary providers.
That, he claims, would lead to demand from students to attend top courses, "dragging poorer providers up, and ensuring that everyone who receives a qualification is actually employable".
Other respondents wanted to see trade-based programmes that subsidised employers to take on apprentices.
"Funding models for universities have encouraged behaviour intended to maximise revenue rather than target appropriate skills," said another respondent who asked not to be named.
There were also calls to scrap funding for tertiary education, "then the potential jobs will fund their education debt".
Others preferred to see more on-the-job training, and more innovation to attract young people to work "before they fall into the trap of long term unemployment".
Survey respondents also called for a change to tertiary education practices to provide a mix of study and work placement - to provide students with real-life work experience.
Councillors vote down living wage
Just over half of those surveyed thought district councils should not be allowed to pay their staff above the going rate for a comparable job in central government or the private sector.
The Hamilton City Council - looked at paying its staff a minimum of $18.40 an hour - the so-called Living Wage - as opposed to the adult minimum wage of $13.75 an hour (or $11 an hour for starting-out workers or those in training).
While 51.4 per cent of respondents say councils should not pay more, 32.7 per cent believed they should be free to do so, and 15.9 per cent were unsure.
Hamilton Councillors voted six to five against adopting the living wage on 4 July, one of the reasons was that it would have cost the council $600,000 over two years.
BusinessNZ's Phil O'Reilly says the $18.40/hr rate is unworkable, and that New Zealand's minimum wage, which is 65 per cent of the median wage, is higher than that of most other countries.
Wellington and Auckland councils are now considering introducing the Living Wage along with some universities.