Education overhaul based on industry needs looks certain to strengthen prospects for those just starting out.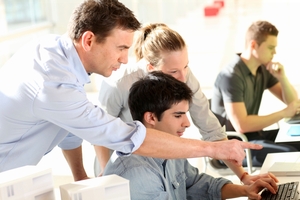 The IT sector is hiring: software companies such as Orion Health and Xero are scrambling for developers to build their dreams of world-leading products, while service companies like Datacom need bodies to keep up with demand from customers.
"Employers tell me the key thing holding them back is the ability to get skilled people," says Paul Matthews from the Institute of IT Professionals.
For years, there was a mismatch between how New Zealand was training people and what the industry needed, but Matthews says changes at secondary and tertiary level mean "there is now light at the end of that tunnel".
That's tomorrow, and companies hiring today are looking at ways to grow talent.
Natasha Hubbard, Xero's general manager for human resources, says the online accounting software start-up now has 500 staff and is hiring 30 people a month.
"We're looking for software developers, infrastructure specialists, sales and customer support," Hubbard says. "We have a graduate recruitment programme, which is excellent for grooming the sort of people we need, and we are scouring New Zealand, Melbourne and San Francisco where we are building development teams."
While the core application is built, there is a huge amount of work required to extend its capacities and make it available on more devices.
Skills like Java and HTML are needed to build the back and front ends, and the increase in customers wanting to access the app on mobile devices means Xero needs more Android developers.
Hubbard says it has started running in-house courses to cross-train developers. It has also offered limited-time joining bonuses for people with specific skill sets.
The starting rate is about $50,000, but there is an employee share option scheme, which given the appreciation in Xero's shares over the past couple of years could be tempting.
Orion Healthcare also does extra training for staff.
Human resources manager Jonathan Pulman says the global headcount is 780 and it plans to have 950 staff by the end of the year.
It needs developers but also the implementation consultants who work with the hospitals installing thesystems.
"Because it is difficult to find people with the skills who fit with the culture, we are prepared to upskill people who have a basic level of skills and experience," Pulman says.
This year the company expects to take on up to 40 graduates, who start at $52,000 a year.
University of Auckland school of computer science acting head Ewan Tempero says over the past year to 18 months the number of companies seeking graduates has stepped up.
Fortunately, enrolments are on the rise after a mid-decade slump, and the changed high school curriculum is expected to bring an intake of students next year with a better foundation for computer science.
"Our students get hired and we get feedback of different kinds about whether we are doing the right things," Tempero says.
While some employers want someone who can fit in as soon as they walk in the door, many of the larger organisations understand the need to grow their staff, and value the core understanding a computer science degree gives.
Over on the other side of the tertiary spectrum, the polytechs, wananga and private training establishments, the New Zealand Qualifications Authority is overseeing a major review of ICT qualifications.
Matthews, who is on the steering group, says that over the next few months stakeholders will develop the proposed qualifications.
"We are now going through a process of scrapping various diplomas and certificates and coming up with a new landscape of qualifications, based on industry demand," he says.
The reform doesn't include universities, which Matthews says by and large are doing a good job of balancing industry needs and "teaching people to think and to be lifelong learners".
He says the institute has started a programme, IT Connect, of sending members into secondary schools to change the perception it's a profession for antisocial geeks.
"It's a career that offers challenges, good pay and the opportunity for travel. It doesn't have to be a hard sell. It's just a matter of getting it in front of the kids so they can make the right choices."