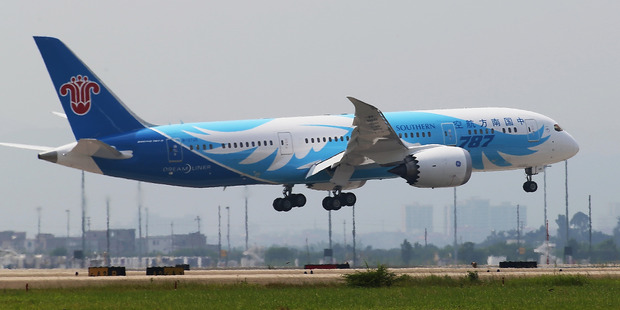 The first scheduled Boeing 787 Dreamliner flights to New Zealand are set to begin earlier than previously expected.
China Southern Airlines will start daily 787 flights from the Chinese city of Guangzhou to Auckland from October 28, ahead of the previous announced start date of December 4, Auckland Airport announced today.
A second China Southern Dreamliner will service the same route over the peak summer season from December 4 to March 1, taking the total number of weekly flights to 10.
Auckland Airport's Glenn Wedlock said the 787 flights were a positive development for the tourism industry and would boost Chinese arrivals.
"The new flights also offer a 20 per cent advantage in cargo revenue capacity over today's similarly sized airplanes," Wedlock said. "This means more capacity to our biggest trading partner for high value air freight exports such as fresh produce."
China Southern's Boeing 787 Dreamliner has 228 seats and is the first Dreamliner to have a first class cabin.
The aircraft has been marred by problems since its 2011 launch, the most recent of them being a fire on an Ethiopian Airlines 787 while it was parked at London's Heathrow Airport earlier this month.
Air New Zealand is due to have its Dreamliners delivered from the middle of 2014.
Auckland Airport said China Southern had also announced visa entry changes that meant New Zealanders would now be allowed to transit in Guangzhou for up to 72 hours without a visa, up from the maximum of 24 hours previously allowed.
"The new transit period of 72 hours allows visitors more time to explore Guangzhou, meaning more value for money as travellers can fully experience the city on their way to another destination," said China Southern's general manager for New Zealand, Mike Ma.