High exchange rate and slowdown could take shine off earnings of firms exposed to the Australian economy.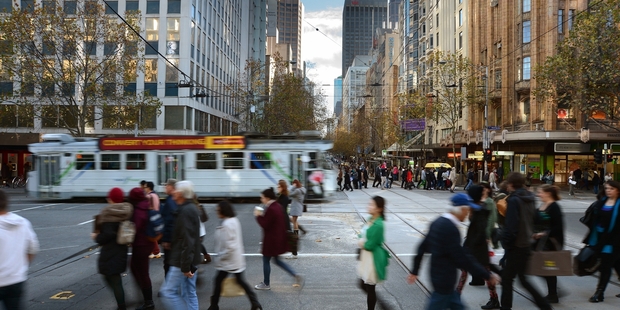 Analysts expect to see steady earnings growth for listed companies with exposure to New Zealand when the 2012/13 results season gets under way next month, but they said profits for those businesses with connections to Australia might be a mixed bag.
Steady performances from the pure New Zealand "plays" are expected, but those with exposure to the Australian economy could see the shine taken off their earnings from the economic slowdown there and from the New Zealand/Australian dollar cross rate, which is sitting near a five-year high.
The kiwi's dramatic fall against the US dollar will be a major plus for many, but the positive impact of a weaker NZ/US exchange rate is more likely to kick in in 2013/14 rather than the June year just past because the currency only started falling from its peak of US86.75c in April, according to analysts.
Morningstar analyst Nachi Moghe said there should not be many nasty surprises coming from the June 30 year reporting season.
"I don't think there will be too many negative surprises as such, so the season will be more or less in line with consensus forecasts," Moghe said. "Domestic growth has not exactly been lacklustre, but it hasn't been exciting either."
Mark Lister, head of private wealth research at Craigs Investment Partners, said most New Zealand corporates were in reasonable shape.
"Over the last six months there has been growing divergence between New Zealand and Australia," Lister said. "We seem to be chugging along quite nicely with the momentum of the Canterbury rebuild and the Auckland housing market powering ahead.
"The New Zealand dollar has come off the boil [against the US] and most of the indicators are telling us that the economy is on track, but Australian retail sales are in the doldrums and the mining sector is slowing."
Fletcher Building - the country's biggest company by market capitalisation - said earlier this month that its operating earnings for the 2013 financial year were expected to be in the range of $560 million to $610 million. Second-half growth was expected from momentum seen in the New Zealand market but the forecast assumed no further deterioration in Australia or other markets, the company said at that time. About 43 per cent of Fletcher Building's revenue and 40 per cent of its earnings before interest and tax come from Australia.
Further afield, an improving US housing market is likely to be a positive factor for Fletcher Building while domestically, the Christchurch rebuilding and a buoyant Auckland housing market are seen as being strongly supportive for the company's earnings.
Air New Zealand is shaping up to be one of the bright spots. The company has upgraded its earnings guidance three times in five months, most recently lifting pre-tax profit to the upper end of previous guidance of $235 million to $260 million.
Among the retail companies, Pumpkin Patch, Michael Hill International and Hallenstein Glasson have cited Australian conditions as negative influences on their 2012/13 earnings guidance updates.
Carpetmaker Cavalier has said it expects its 2012/13 net profit to be at the lower end of a $6 million to $10 million range because of a subdued Australian market.
Companies with activities closer to home look to be benefiting.
Freightways has an Australian presence but it remains a mostly New Zealand-focused company. This month, the express parcel company moved to temper analysts' over-optimistic forecasts by saying it expected a net profit for 2012/13 of about $38 million, 6 per cent up on the previous year.
- APNZ