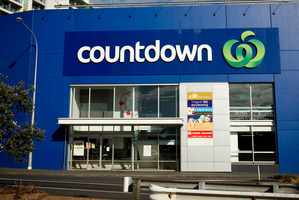 A new war has broken out between the nation's supermarket giants - and this time, the consumer is not the winner.
Countdown was this week censured for the second time this year for misleading customers by claiming to have cheaper prices than rival Pak'nSave; it says Pak'nSave, in turn, is being investigated by the Commerce Commission for its price comparison claims.
Foodstuffs, which runs Pak'nSave, complained to the Advertising Standards Authority after Countdown ran a price comparison campaign in its Sunnynook store on Auckland's North Shore.
The campaign display featured two shopping trolleys filled with goods and wrapped with cling film, along with receipts from the stores where the items were bought - Countdown Sunnynook and the nearby Pak'nSave on Wairau Rd.
The total bill on the Countdown receipt was cheaper, with both receipts accompanied by the phrase: "Who really is the cheapest!!!"
Foodstuffs complained the campaign was "ambiguous and generally misleading" because it implied Countdown's prices were cheaper overall, rather than cheaper for specific items on a given day.
It noted that 27 of the 38 items compared were on special at Countdown Sunnynook that week, and most were convenience items that did not reflect a typical grocery shop.
Countdown owner Progressive Enterprises hit back, saying Foodstuffs' nationwide television ads were based on prices at one supermarket on a specific day - highly misleading, given the daily fluctuation in charges for groceries.
Progressive pointed out the Commerce Commission was investigating Foodstuffs' basket comparisons under the Fair Trading Act. The chain refused to attend the advertising authority hearing while the Commerce Commission was still investigating its opponent.
The advertising authority ruled against Countdown, saying the lack of context in the campaign would mislead customers about which store had generally lower prices.
It said that breached the code on comparative advertising and the advertising code of ethics.
In March, the authority also censured Countdown over a misleading sign, and in 2011, it ruled against the chain's Hornby, Christchurch, outlet over a price comparison promotion.
The Commerce Commission investigation into the Pak'nSave advertisements is still ongoing, the authority says - meaning families are unable to be sure whether they can rely on the truth of either supermarket chain's claims.
A Countdown spokeswoman played down the ad authority's adverse ruling, describing it as a "technical point" about the comparison. She said comparisons could be "fraught" given daily competition and fluctuation in grocery prices.
"Our aim is to be transparent with our customers and make sure they have all the information they need when they shop with us, and we accept we needed to be more clear on this occasion."
Foodstuffs marketing chief Steve Bayliss said Pak'nSave approved of comparative advertising if it was fair and used the correct methodology.
"However, if we are targeted in comparison advertising which is not consistent with the codes of advertising then we would take action to defend our brands."
An independent survey, published by Consumer NZ last month, found Pak'nSave was cheaper than Countdown in north and southeast Auckland, Tauranga, Napier/Hastings, Christchurch and Dunedin.
But in Wellington, Countdown Kilbirnie was the winner: A trolley of 40 top-selling items there cost $141, compared to $145 at the neighbouring Pak'nSave. APNZ