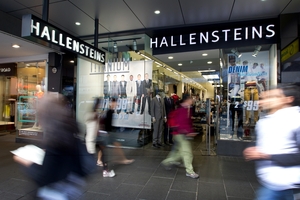 New Zealand shares rose yesterday, led by Pumpkin Patch as the retailer clawed back a small portion of this year's 34 per cent slide, while Diligent Board Member Services rose after telling the NZX on Tuesday that it knew of no reason for its recent slide.
The NZX 50 Index rose 2.42 points, or 0.1 per cent, to 4578.97. Within the index, 26 stocks rose, and 12 fell. Turnover was $94.9 million.
Pumpkin Patch, the children's clothing chain, jumped 8.5 per cent to 89c. The stock hit an 18-month low late last month when the company said full-year profit might drop as much as 35 per cent in the face of intense competition in Australia.
"The retail sector is challenging at best," said Rickey Ward, head of equities at Tyndall Investment Management. Pumpkin Patch "looks cheap longer term but it has got to earn its stripes in the next six months."
Retailers were mixed yesterday. Jewellery chain Michael Hill International climbed 3.2 per cent to $1.28, Warehouse Group gained 2.4 per cent to $3.87, and fast food operator Restaurant Brands was unchanged at $2.87.
Hallenstein Glasson Holdings, another retailer to have issued a profit warning, fell 0.4 per cent to $4.86.
Diligent gained 7.6 per cent to $6.10 after telling the NZX on Tuesday it wasn't sitting on any information that could account for a 17.3 per cent drop in the company's share price over four days.
Xero, the cloud-based accounting company, fell 0.9 per cent to $15.60 after NZX regulators asked it to explain a 23 per cent slump in its shares in the past six days.
The company said it did not have any information that needed disclosing, though the stock "has a history of high volatility as a result of a tightly held share register, thus buying or selling pressure from one or more institutions can significantly affect the price".
Property for Industry rose 0.4 per cent to $1.415 on demand from institutions adjusting their portfolios in anticipation of the property investor's elevation in benchmark stock indexes, after a merger with Direct Property Fund doubled its size. Fletcher Building fell 0.6 per cent to $8.52.
Mighty River Power fell 0.4 per cent to $2.41 while Tower was unchanged at $2 after the insurer said it was in talks with the Reserve Bank as part of the licensing process, and may face the imposition of stricter solvency requirements as a condition set by the regulator.
SkyCity Entertainment Group rose 0.2 per cent to $4.36 after the Commerce Commission cleared it to buy a rival casino in Queenstown for $5 million. Units in the Fonterra Shareholders' Fund increased 0.3 per cent to $7.42 after Fonterra Co-operative Group said it would cut prices of its Anmum-branded products in China.