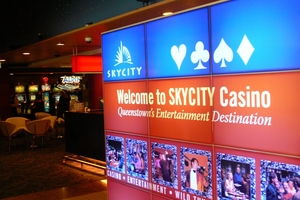 SkyCity Entertainment has been granted Commerce Commission clearance to buy Otago Casinos in Queenstown.
The proposed acquisition would result in SkyCity owning both casinos in Queenstown - Sky City in the central business district and Otago Casinos at the Queenstown wharf.
"The commission is satisfied that the proposed acquisition will not have, or would not be likely to have, the effect of substantially lessening competition in the national market for gambling entertainment for premium gamblers, or in the Queenstown market for ordinary gamblers," it said.
Commission chairman Mark Berry said SkyCity's was an unusual application because gambling is strictly regulated in New Zealand.
"The removal of competition between the two Queenstown casinos would not materially impact on competition given this high level of regulation and the other constraints SkyCity would continue to face," he said.
There were also likely to be improvements to the gambling facilities in Queenstown as SkyCity proposed to upgrade the Wharf Casino, Berry said.
NZX-listed SkyCity Entertainment owns and operates casinos in Auckland, Hamilton, Queenstown, Adelaide and Darwin.
Otago Casinos is owned by Singapore-based Lasseters International, which operates the Wharf Casino in Queenstown and another casino in Alice Springs.
- APNZ