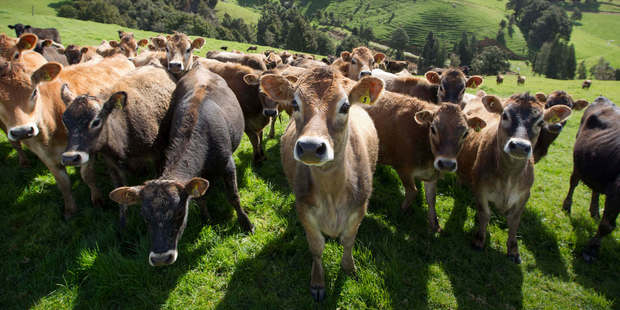 New Zealand's rural property market has cooled as farmers hunker down for winter but strong demand means farm sales and prices are still tracking higher than a year ago.
There were 474 farms sold across the country in the three months to the end of June, which was 68 more than during the same period last year, according to figures from the Real Estate Institute of NZ (REINZ).
At $19,716, the median price per hectare for all farms was up 12.3 per cent on $17,565 recorded last year.
Compared to the three months ended May, farm sales and prices were down 7.4 per cent and 3.8 per cent respectively.
The REINZ All Farm Price Index - which adjusts for differences in farm size, location and farming type - fell by 0.8 per cent compared to last year and 2.6 per cent compared to May.
REINZ spokesman Brian Peacocke said winter was always a tougher time for the rural property market but sales were still going better than usual.
"Demand is strong and I think there's a perception out there that the rural industry is a good investment at the moment," he said.
"Enquiry in all farm categories is consistently strong in all regions, in contrast to the normal seasonal pattern in winter."
Peacocke said the main factor limiting farm sales right now was the availability of properties to meet demand.
"The increased dairy payout, lower New Zealand dollar and continuing low interest rates are the key drivers of increasing farm confidence across the country.
"As a result, all regions are reporting a shortage of listings, with those farms available for sale are attracting very strong attendance at open days, and multiple offers."
Looking at the regions, Waikato had the strongest performance with 29 more sales than last year, followed by Auckland (26) and Northland (11).
Four regions recorded decreases in sales volume, led by Wellington (-8), Nelson (-6) and Southland (-3).
Peacocke said there had been strong competition for dairy farms in the South Waikato region.
"The final five Carter Holt dairy farms have been sold by tender with sharemilkers in place, with possession in mid-July. Notably these sales have occurred without Fonterra shareholdings."
For the three months ended June, the median sales price per hectare for dairy farms was $29,555, compared to $34,850 in May and $27,919 last year.
Lifestyle property sales volumes last month were up 18.2 per cent compared to last year but down 4.4 per cent on May figures.