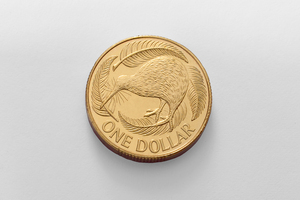 The New Zealand dollar is trading near a week low on concern about a slowdown in China, the country's second-largest trading partner.
The kiwi recently traded at 77.81 US cents, unchanged from late New York trading Friday, and down from 78.68 cents at the 5pm close in Wellington. During New York trading, the local currency slipped to its lowest in almost a week of 77.50 cents. The trade-weighted index fell to 74.05 from 74.57 in Wellington Friday.
Traders are awaiting a report today on China's second quarter growth with Reuters polls showing expectations of 7.5 per cent growth from the year earlier. Currencies of China's major trading partners, including the New Zealand and Australian dollars, weakened after China's Finance Minister Lou Jiwei was quoted as saying growth could be 7 per cent this year. The official Xinhua News Agency later corrected the report, saying there was no doubt China could achieve the targeted 7.5 per cent growth.
"Comments from the Chinese Finance Minister that put GDP growth lower in 2013 saw AUD and NZD sold," ANZ New Zealand senior economist Sharon Zollner said in a note.
"A clarification of China Finance Minister's remarks by the official Xinhua news agency (NZD positive), and the release of China Q2 GDP should drive currency in Asia."
China's GDP data is scheduled for release at 2pm New Zealand time. Economists polled by Reuters expected April-June GDP data to show Asia's largest economy grew 7.5 per cent from a year earlier, down from an annual pace of 7.7 per cent in the first quarter. That marks a far cry from the double-digit growth common in the past three decades.
In New Zealand today, the performance services index for June is scheduled for release at 10:30am.
The local currency gained to 85.78 Australian cents from 85.68 cents on Friday and slid to 77.18 yen from 77.89 yen. The kiwi weakened to 59.47 euro cents from 60.11 cents Friday and dropped to 51.43 British pence from 51.87 pence.