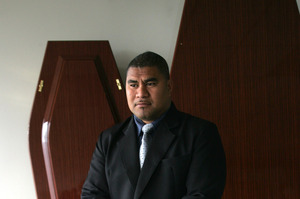 Former All Black Va'aiga Tuigamala says being "too gracious" cost him dearly after his funeral home business went bust owing around $100,000.
The West Auckland-based Tuigamala and Sons was placed in liquidation last Friday, the largest debt being around $80,000 to the Inland Revenue Department.
The Tuigamalas have already set up a new funeral business, Peaceful Funeral Services Ltd, in Otara and Tuigamala's wife Daphne is the sole director and shareholder.
Tuigamala, 43, is understood to have been owed around $130,000 in unpaid funeral fees, and said he had found it difficult collect money from grieving relatives.
"It's a tough position to be in simply because people are very vulnerable during that time. You're trying to work with them, and unfortunately over the years I've given too much grace. I'm not one to turn people way in their time of need."
He said the liquidation had been "a very stressful and very painful time" for his family.
Tuigamala said his difficulties began when a gym business, Plantation Health and Fitness, went under in 2011. He and his wife had invested 'too much' of their personal money in the business, which he set up to try to improve the health of Pacific Islanders, after seeing many of them die at a young age.
"People might say I might be a bit naive but I've always had a desire to serve my people.
"It's not the best day for me and my family. No one wants to be in this position. You've got to move forward. You can't blame people, I'm not into that. You learn from it. It's not easy. You're only a failure if you get knocked down and stay down."
Liquidator Derek Ah Sam, of Rodgers Reidy Ltd, was doubtful he would be able to recover any of the outstanding money owed to the company.
Ah Sam said he would be looking into all aspects of the Tuigamala & Sons liquidation - including whether any transactions were made after it was placed in liquidation.
He would also be examining the new funeral business, but said he did not expect to find any evidence of wrongdoing.
Tuigamala played 19 tests for the All Blacks - and was nicknamed 'Inga the Winger' - before switching codes to rugby league in 1993. After rugby turned professional in 1996, he played for several English clubs and starred for Manu Samoa at the 1999 Rugby World Cup before retiring in 2002.
He set up Tuigamala & Sons the following year.