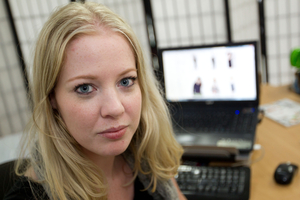 If GST was added to items bought on the internet, it wouldn't stop Esther Greatbanks from shopping online.
The 25-year-old said she bought online not only because it was cheaper, but for variety and convenience.
"Adding GST might affect the individual items I buy. I'd just think about the price being a little bit more expensive.
"I wouldn't be more likely to go shopping in a mall or anything.
"I'd probably just have to buy things online that have a cheaper original price."
The account manager at Bright Sparks Promotional Marketing said she thought it would be fair to add a GST charge even if it meant her purchases were a bit more expensive.
"But it might be annoying, depending on how they implemented it - would it automatically be added on and I don't have to worry about it? Or would I have to fill out a form and muck around?"
Ms Greatbanks, who has been shopping on the internet for about five years, said 80 per cent of her wardrobe was bought online and she has a package arrive once a month or more.
"I started just getting a little bit, but now I get almost everything."