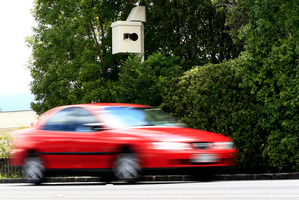 Motorists who are already worried about speed cameras being too effective as revenue earners will be apoplectic when they discover the police are calling for tenders for a new generation of digital speed cameras. They want an upgrade to be capable of tracking speeding cars across several lanes, and able to tell whether one car among several is speeding. They will also be able to ping trucks which should be travelling at 90km/h in 100km/h zones. And the images won't have to be collected from the camera sites, but can be monitored from a central location.
SWITCHING DRINKS
The Insider was amused this week by a fancy invitation for a Great Gatsby-inspired event at SkyCity's Twentyone bar, prominently featuring the logo of champagne-maker Perrier-Jouet. As anyone who has seen the movie will know, Gatsby's tipple of choice was Moet & Chandon, bottles of which feature in many lingering close-ups.
IN YOUR FACE (AND HEAD)
Technological breakthroughs, or just plain creepy? In Britain, the Telegraph reports, personalised advertising - as seen in the Tom Cruise movie Minority Report - is coming closer, as digital advertising company Amscreen introduces a face detection system in thousands of its advertising screens. The system can tell how many people are in front of each screen - even if they're not looking at it - as well as their age and sex. Advertisers can then instantly tailor their adverts to match the audience. Meanwhile, in Germany, ad agency BBDO Germany has come up with a cunning scheme to transmit commercials through train windows, so that when a weary commuter leans against the window, the sound appears to come from inside his or her head. The idea uses bone conduction technology, to transmit sound by passing vibrations through the skull.
BACK INTO THE FLAMES
The return of Doug Martin to a firefighting role took some by surprise. His pay cut to $2000 a day to sort out the Christchurch City Council's building consent woes comes after a lower-profile life in recent time. After leaving the State Services Commission, Martin was a Mr Fix-It for Bill Birch when he was the minister for everything, then for Jenny Shipley, as she tried to handle the fallout from National's health reforms. Labour ministers were not shy about using his skills either, although he has been less in the public eye lately, as staff at his consulting firm, Martin Jenkins, do work such as giving the regulations for quake-prone buildings a once-over. Could this signal the return of the other Mr Fix-It supreme, Brian Roche, brought back into the Beehive from his role as CEO of NZ Post, which continues its downward spiral?
Speaking of NZ Post, the decline of Britain's Royal Mail is also continuing apace. The irony is that campaigners are turning to modern media such as online petitions and Facebook groups in their attempts to save the venerable institution.
AGAINST THE CLOCK
Trade Minister Tim Groser is in Washington this week to meet the United States Trade Representative, Mike Froman. It is also the start of the huge talks in Washington on the Trans-Atlantic Trade and Investment Partnership, in which 150 European and American trade negotiators will be locking horns. Groser could be forgiven for secretly hoping the tension between Europe and the US over spying revelations might throw the talks off track, so the Americans will focus on the Trans-Pacific Partnership negotiations instead. If there is to be any chance of the US being in a deal, President Barack Obama has to take it to Congress before its elections on November 14, and the clock is ticking.
DIFFERENT DIAL TONE
It's a sign of changing times that the Government was able to raise the prospect of overhauling the Telecommunications Service Obligations without any uproar. The requirement for Telecom to provide a landline at a set price to all premises which had one before 2001, and free local calls, has been a taboo subject for politicians wanting a quiet life. But the world has changed. Telecom is still big, but is not the dominant giant it was, and technology has moved on so much that 2001 looks like a different country. Then, only about a third of households had access to the internet and the quality was often appalling. Now, many households don't bother with a landline, or have one but rarely use it, so the TSO serves mostly to protect the elderly and isolated communities. Ministers have made it clear, though, that free local calls will always be available because they do not want to stir up that hornets' nest again.