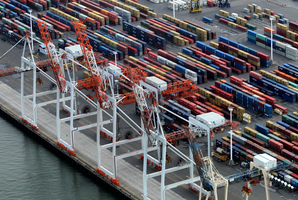 FrieslandCampina Investments, a subsidiary of Royal FrieslandCampina, has emerged as the mystery buyer who swooped on the Synlait Milk initial public offer, picking up a 7.5 per cent stake at the issue price of $2.20 a share. The Dutch dairy cooperative, who once employed the current chief executive of Fonterra - Theo Spierings - is one of the largest dairy cooperatives in the world and is an existing customer of Synlait Milk. As a result of the IPO, the former 51 per cent owner - China's Bright Dairy and Food, will hold about 39.1 per cent of Synlait Milk. Japan's Mitsui & Co - which has been part of Synlait Ltd - will hold about 8.4 per cent. The surprise arrival of Royal FrieslandCampina left many fund managers and private client advisers feeling a little short-changed, with several falling well short of their desired allocations. The issue price was set near the bottom of the $2.05 to $2.65 indicative range, which had fund managers scratching their heads given the intense bidding interest in the IPO.
MORNINGSTAR RATES MRP
Independent research house Morningstar said that while uncertainty surrounds the newly listed Mighty River Power, the stock would suit some yield-seeking investors.
The state-controlled Mighty River accounts for 17 per cent of New Zealand's total electricity output, most of it coming from renewable hydro and geothermal sources.
Morningstar said Mighty River enjoys a strong competitive position but that the potential for regulatory change, as proposed by the Labour Party and the Greens, could reduce its operating income by $100 million if it became law. "Consequently we assign a high uncertainty rating for the firm," Morningstar said. However, the stock would suit some income-oriented investors thanks to its high dividend yield, it said. Mighty River, despite a strong start, has failed to fire on the NZX. The shares closed yesterday at $2.36 - still at a discount to its $2.50 issue price but a healthy improvement on last month's $2.20 post-float low. Mighty River is expected to gain a weighting of around 3 per cent on the NZX50 index next week. Its impending inclusion is causing some excitement, and may help to rejuvenate the share price, fund managers said.
MERIDIAN APPROACHES
As the float of Meridian approaches, much still rests on the aluminium sector. Depending on who you talk to, insiders see Tiwai as the most pressing issue, but for others, the prospect of centralised control of the electricity sector, as put forward by Labour and the Greens, looms equally as large. If Tiwai shuts - as it will surely do sooner or later - it will leave a 15 per cent hole in electricity demand. Tiwai's ultimate owner, Rio Tinto, and Meridian, have been in talks over power pricing, and there's still no word as to how that's going. As far as Meridian's float goes, there was very little in the way of "chatter" in the market - far less than Stock Takes would expect for an offer of this size. Market talk has so far focused on the possibility of the instalment receipts, which would involve investors paying a portion of the stock now and the rest later. Rio has remained tight-lipped on the fate of Tiwai, despite having packaged its other unwanted aluminium assets and put them up for sale. Even though Tiwai is running at a loss, Rio will most likely want to keep it running, because it is worth considerably more as a functioning smelter than it would be as an idle plant. This week, Alcoa, America's biggest aluminium producer, was optimistic about the sector, despite aluminium prices remaining at around four-year lows. Alcoa sees global demand for aluminium products growing 7 per cent this year.
PORT COOLS
Port of Tauranga has had the top taken off its share price after news that shipping line Maersk had switched back to Ports of Auckland, but investors' love affair with this high-performing stock is not over yet. Port of Tauranga shares hit $15.70 in April and started to retrace after the Maersk announcement, but at yesterday's price of $14.28 the stock was still well up from its price this time last year of $11. Most analysts had expected some business to revert to Auckland, but it happened earlier than expected. The company has about $150 million of capital expenditure due in the next three years. About 40 per cent of Port of Tauranga's trade comes from forestry and log exports.
XERO TO HERO
While Port of Tauranga may have temporarily fallen out of favour, the market's steamy romance with Xero remains in full flight. Xero, the cloud-based accounting company, hit a record $18.79 last week. Some signs of weakness did emerge this week, when it dropped back to $17.40 after a large US-based investor, who had been buying, stepped back from the market.
Xero's "XeroCon" conference - which has become something of a rock festival for accountants - is to be held in San Francisco this month and usually provokes additional interest in the product.
SUMMERSET SALE?
Shares in retirement village company Summerset are on the rise again, which must be tempting for its part-owner, Quadrant Private Equity, which sold its last tranche at $2.90 a share in May.
The stock traded yesterday at $3.01 - having gone through a $1.73 to $3.25 range over the past 52 weeks. The numbers are still looking good for Summerset.
The company this week said there were 52 new sales of occupation rights and 48 sales of occupation rights for the second quarter of 2013.
This was an increase in total sales of 12 per cent on the prior quarter, and a 23 per cent increase on the same quarter of 2012. In the year to date, first half 2013 total sales have increased 11 per cent on the first half of 2012 and 18 per cent on the second half. Summerset's first half result is due on August 13.
In May, Quadrant sold 30.7 million shares, or 14.2 per cent, of Summerset.
February marked the end of the escrow period which required Quadrant to keep its majority stake in the company after its partial sell-down and listing on the NZX in 2011. In March, Quadrant reduced its stake from 55.8 per cent. In May, Quadrant sold 30.7 million shares, or 14.2 per cent, of Summerset.