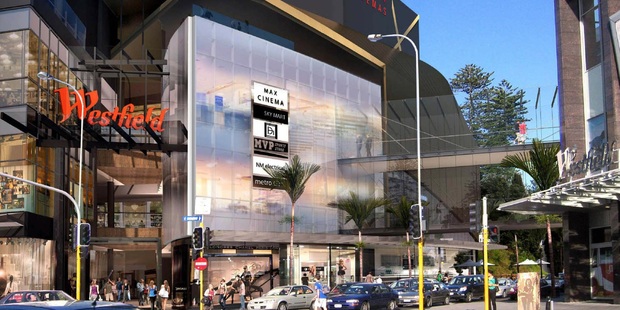 The first images showing Westfield NZ's massive Newmarket expansion have just been released.
Justin Lynch, director for New Zealand, described the plans as 'spectacular' and showed the images to the Property Council's retail conference in Auckland this morning.
Fly-over graphics have now been converted to two stills, to show how the vastly expanded 277 will look from the street.
Lynch said the new centre would have an additional 95 shops, a 9500sq m Farmers store, three large-format high-volume stores, a 2100sq m gymnasium, 1400 extra carparks and a two-level pedestrian bridge linking the existing 277 to the new development.
Westfield owns nine malls in New Zealand and Lynch said the proceeds from recent sales it had made would be reinvested in Newmarket.
Westfield sold three Auckland malls at Downtown, Takapuna and Pakuranga last year and has been planning to expand its 277 mall at Newmarket for some years.
"The shape and size of the mall will be spectacular," Lynch said of Westfield Newmarket showing an audio visual fly-through of the planned development.
"The overall objective is to combine the new centre with the 277 and the design will flow through from one centre to the other.
Westfield's strategy internationally centred on fashion, food and experience and these were lynchpins of its strategy here, he indicated.
The giant mall owner did not feel threatened by online shopping, he said, and instead was examining entirely new digital strategies, centred in San Francisco where many of the world's hi-tech companies were headquartered.