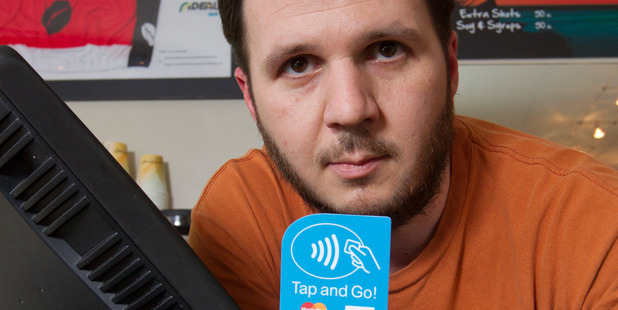 A payment system designed to save time and make shopping easier is causing headaches for some retailers and customers.
Shoppers using the Tap and Go technology - which allows customers to swipe a credit card without a pin number - have found they are accidentally being charged when cards are in their wallets. In other cases, payments are being charged to customers' credit accounts and incurring interest, rather than to a cheque or savings account.
Consumer NZ is now calling on banks to provide more education on the system, which is available in many shopping outlets after it was introduced by Visa and MasterCard at the end of last year.
Consumer NZ finance writer Kate Sluka said the organisation had received a number of complaints and queries about the technology.
"We had one woman call in saying she was at a supermarket and trying to get her eftpos card out of her wallet, when the machine scanned her credit card - inside her wallet - instead.
"There has to be a far better education programme for customers but also for retailers about how to act around the terminals."
A terminal can only scan a card within 4cm of it. It is not able to scan several cards at once, but people are being warned to keep other cards away from the machine when making a purchase.
Mrs Sluka said banks needed to provide better information for customers and tips for retailers, such as attaching the machine overhead.
Another issue is customers not realising that the default account on a Tap and Go card is their credit account.
The owner of Wellington's Cafe Caribe, Zachary Widener, said the cafe had installed the technology to offer customers an improved service. But a number of people had complained after being automatically charged on their credit card for something as small as a $3 coffee.
"The guy that brought it to our attention came back and said: 'Hey guys, did I pay that on credit or cheque?' It turns out he did pay on credit and he said: 'That means I've got to pay interest on that coffee later.'
"For some customers, that would be okay. They might be able to pay their bill at the end of the month. But for others, that coffee will cost [more] at the end of the month."
ASB, BNZ and ANZ banks said they had no control over the default account issue as the technology was something specifically developed by Visa and MasterCard. The banks said they had received positive feedback on the Tap and Go service.

Tap and Go trouble
• Cards, some still in wallets, are accidentally being charged.
• Some customers are not realising payments are being charged to a credit account, rather than a cheque or savings account.