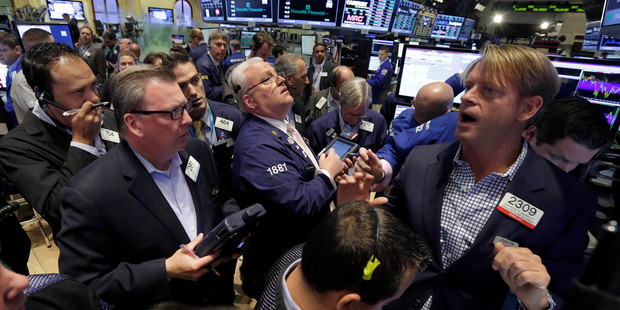 Equities on both sides of the Atlantic gained as Alcoa's better-than-expected second-quarter earnings bolstered optimism that corporate America will report solid results and outlooks.
In late afternoon trading in New York, the Dow Jones Industrial Average added 0.57 per cent, the Standard & Poor's 500 Index gained 0.78 per cent, while the Nasdaq Composite Index climbed 0.62 per cent.
Aluminium producer Alcoa was the first Dow member to report second-quarter earnings after the close of the market yesterday. While it beat expectations, shares were last 0.25 per cent lower.
The company stuck with its forecast for 7 per cent growth in global aluminium demand in 2013.
"It looks much better than expected. It is good to see that revenue is better than expected," Alan Lancz, president of Alan B Lancz & Associates, an investment advisory firm based in Toledo, Ohio, told Reuters.
"It seems like the outlook is favourable so far."
Shares of FedEx jumped, last up 5.4 per cent, amid speculation it might be the target of a billion-dollar investment that William Ackman is looking to make.
Ackman wrote to clients on Monday asking them to commit US$1 billion to two new funds by the end of next week to invest in a major US company that he did not name, according to Reuters.
The US Treasury auctioned US$32 billion of three-year notes today. The notes yielded 0.719 per cent, more than double the 0.354 per cent at the May 28 auction, according to Bloomberg News.
The latest economic data showed further signs of strength in the US labour market. Job openings edged up to 3.83 million in May from a revised 3.8 million in April, which was higher than initially estimated, according to the Labor Department.
Even so, the National Federation of Independent Business's index of small-business optimism slipped to 93.5 in June, from 94.4 in May.
Equity markets shrugged off the International Monetary Fund's downgrade to its 2013 forecast for US economic growth to 1.7 per cent, down from 1.9 per cent in April.
Microsoft is set announce to a major management reshuffle on Thursday, technology blog AllThingsD reported. The objective is to focus the company on services and devices.
In Europe, the benchmark Stoxx 600 Index finished the session with a 0.8 per cent increase from the previous close. France's CAC 40 rose 0.5 per cent, while the UK's FTSE 100 index increased 1 per cent and Germany's DAX gained 1.1 per cent.