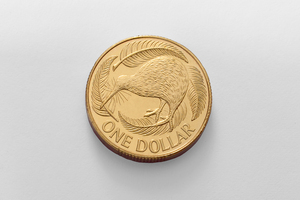 The New Zealand dollar may decline this week as traders increase bets that the Federal Reserve will start to reduce stimulus in September as the US economy shows signs of improvement.
The local currency may trade between 75 US cents and 79 cents this week, with a lower bias, according to a BusinessDesk survey of 10 traders and strategists. Eight expect the kiwi to end lower while two expect a rise. The kiwi recently traded at 77.12 US cents from 77.05 cents at the New York close and 78.12 cents at 5pm in Wellington on Friday.
The US dollar is on a higher path as expectations mount that the Fed is poised to pull back its US$85 billion a month asset purchase programme. The US Dollar Index, which measures the greenback against the currencies of six major trading partners, rose to a three-year high after a report Friday showed the world's largest economy added more jobs than expected in June.
"The trend is downwards for the kiwi/US," said Westpac Banking Corp senior currency strategist Imre Speizer. "We have had some fairly strong US data which has supported the expectation for tapering.
The story so far does look like it's on track for a tapering and that is expected to start in September.
"From now until September it does look like it is going to be the US dollar on an upward path and other currencies against it on a downward path," Speizer said. "That really is the story for the kiwi dollar."
He expects the kiwi to break below its current resistance level of 76.85 US cents this week, to trade as low as 76 cents. "The tapering theme dominates all else."
A report in the US last Friday showed employers added a higher-than-expected 195,000 new jobs to their payrolls last month. That took the average job growth to 196,333 per month in the second quarter, in line with the 200,000 jobs that economists say the Fed wants to see each month.
Traders will be looking for comments on future tapering when Fed chairman Ben Bernanke speaks at the National Bureau of Economic Research in Boston on Wednesday. The same day, the Fed will also release the minutes from its June 18-19 meeting. A slew of other Fed officials are scheduled to speak on Thursday and Friday.
Bernanke may endorse previous comments that action on tapering is data dependent and allude to recent strong data, said Westpac's Speizer. That would continue the kiwi's downtrend against the greenback, he said.
US economic reports released this week include the NFIB small business optimism index on Tuesday, wholesale trade data on Wednesday, weekly jobless claims and import and export prices Thursday and the producer price index and consumer sentiment on Friday.
In New Zealand, traders will look to the New Zealand Institute of Economic Research's Quarterly Survey of Business Opinion due at 10am tomorrow for indications of how business sentiment was tracking in the second quarter. The survey will probably paint a positive picture of the underlying economy and will be closely watched for evidence of price pressures emerging, Westpac said in a note.
A short time later at 10:45am, the Statistics department releases electronic card transactions for June, giving an indication of consumer spending. The index has had only one monthly decline the past eight months.
Two reports indicating housing demand are also due out tomorrow. State valuer Quotable Value will release its latest statistics on house values for June, following annual growth of 7.1 per cent in May. Meanwhile, the Real Estate Institute of New Zealand, which represents real estate agents, expects to publish its latest data on median house prices in June after prices in three areas rose to a record in May.
New Zealand's Reserve Bank is planning to use new macro-prudential tools to restrict the volume of low equity mortgages as pressure in the housing market poses a risk to financial stability. The consultation on the restrictions closed last week and the bank may be ready to act within a few months, Westpac said in a note.
Most economists expect the central bank will also raise the benchmark interest rate from a record low 2.5 per cent next year in part to contain the housing market in Auckland, where a supply shortage has driven up prices, and Christchurch, embarked on a massive rebuild after the earthquakes.
On Wednesday, Finance Minister Bill English speaks to the Trans-Tasman Business Circle in Wellington from midday.
On Thursday, the BNZ-BusinessNZ Performance of Manufacturing Index for June is published at 10:30am. In May, the index rose to the highest level in nine years and recorded the strongest reading for the month since the survey began in 2002.
Meanwhile, data on food price inflation for June will be released at 10:45am Thursday from the Statistics department and the central bank will publish foreign holdings of New Zealand government bonds at 3pm Friday.
In Australia this week, traders will be watching data today on job advertisements, followed by business confidence tomorrow, consumer confidence on Wednesday and employment data on Thursday.
In China, trade data due on Wednesday will be closely watched for any evidence of a slowdown. China is New Zealand's second largest trading partner and Australia's largest trading partner.