OHL, which is directed by Mark Hotchin and Eric Watson, is suing Apex General over potential losses on insurance policies worth up to $50m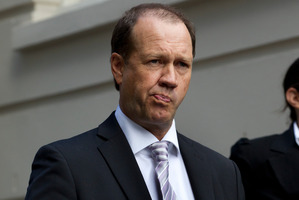 A company directed by Hanover's Mark Hotchin and Eric Watson is suing an Auckland insurance broker over potential losses on policies worth up to $50 million.
The proceedings are due to be heard next February and follow Hanover Group Holdings' fight with insurance giant AIG, which it lost in the High Court last December and has since taken to the Court of Appeal.
The AIG stoush was over a policy Hanover wanted to use for legal costs associated with the forthcoming civil case between former Hanover directors or promoters and the Financial Markets Authority as well as any damages that may be payable in those proceedings.
Told by AIG it was not covered for certain claims, Hanover Group Holdings - now known as OHL - is taking action against Apex General, the broker which negotiated the policy.
OHL and three subsidiaries have filed proceedings against Apex in the High Court at Auckland, alleging the broker breached its contracts and the Fair Trading Act and was negligent.
According to Hanover's statement of claim, from 2004 it paid Apex an annual fee for insurance services that included placing and renewing policies with the likes of AIG.
In 2007 - the year in which Hanover issued offer documents with allegedly untrue statements - Apex negotiated the placement of directors and officers (D&O) insurance for Hanover totalling $50 million.
D&O policies traditionally cover defence and other costs in liability claims brought against directors or executives of a company.
The first layer of Hanover's D&O insurance was placed with AIG and is worth up to $20 million while an excess layer of $30 million was placed with Axis Speciality Europe and Lloyds Syndicate.
Hanover's 2006-2007 D&O policy with AIG excluded cover for loss in claims linked to prospectuses where the amount to be raised from the market was over $400 million, with some prospectuses listed as being covered despite this clause.
Hanover says that in October 2007 it told an Apex broker it required "full prospectus cover" for the coming year, which its statement of claim says meant cover "for all past, current and future prospectuses".
According to the statement of claim, the broker soon after told Hanover that AIG had agreed to provide full prospectus cover.
Relying on this advice, the finance group then directed that the broker should renew the policy.
But in 2011 AIG told Hanover it would not provide cover for claims linked to Hanover Finance's and United Finance's 2007 prospectuses as they had raised more than $400 million and were therefore excluded from the policy.
Hanover's statement of claim says the underwriters of the $30 million excess layer have also refused to accept they need to provide full prospectus cover.
Hanover says it has suffered, or will suffer, the loss of indemnity payments which it would have otherwise obtained from AIG and from the excess layer D&O policy.
It also says it suffered the loss of more than $675,000 it has spent on pursuing insurance cover so far.
Hanover claims Apex breached its duty of care when the broker "received clear and unequivocal instructions" from a manager at Hanover but "failed to give effect to those instructions" by not obtaining full prospectus cover. Hanover wants an inquiry into all the losses suffered as a result of Apex's alleged breach of contract and judgment for this sum, together with interest and costs.
While Apex accepts it had a duty of care towards Hanover, its statement of defence denies it breached contracts and the Fair Trading Act or that it was negligent.
Apex disagrees that it failed to give effect to Hanover's instructions and says AIG had in fact "agreed to provide cover for all past, current and future prospectuses" during a phone conversation with its broker in October 2007.
The final policy wording issued by AIG in December 2007 excluded cover for the two prospectuses and Hanover says Apex's broker failed to ensure it reflected what he believed had been agreed to with the insurer.
Although Apex accepts its broker failed to read a part of the policy, it denies the rest of the allegation and has called an AIG email that attached the policy wording "misleading and deceptive conduct".
Furthermore, Apex says that if it had breached its duty to the plaintiff, which it denies, such a breach would not have caused loss as Hanover would not have been able to get full prospectus cover if "all material facts were properly disclosed to any insurer".
These included that Hanover and/or Hotchin and director Kerry Finnigan had invested a total of $680,000 in a scheme "later described by their own counsel as a 'Looney Tunes investment' and by the Serious Fraud Office as a Ponzi scheme", Apex alleged.
Apex claimed Hanover and/or its directors were also obliged to disclose that Hanover Finance was about to issue a prospectus that contained "material untrue statements" and that "HFL's financial position was rapidly deteriorating in the period after June 30, 2007".
"Weekly projections indicated that, even if HFL obtained new funds from the annual prospectus at reasonably expected levels, it would face significant financial difficulties by mid-2008," the statement of defence says.
In April last year a Court of Appeal judgment said Hanover failed in mid-2008, causing substantial losses to depositors.
About 16,000 people with investments totalling more than $500 million lost most of their money following the failure of Hanover and related companies, and the sale of assets to Allied Farmers.
In a reply to the statement of defence, Hanover said: "There was no material non-disclosure by Hanover prior to entry into contract of insurance with AIG and excess layer underwriters for the year commencing November 1, 2007."