Changing attitudes about money and retirement needs to start with children, says new commissioner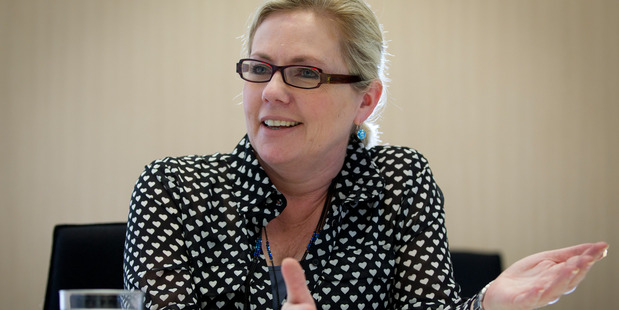 Diane Maxwell isn't afraid to admit she hasn't always been good with money but the newly minted Retirement Commissioner wants to get people talking about it from a young age so that they can be.
Maxwell has set herself a goal of making retirement saving a "round the BBQ with a beer" conversation.
She says Kiwis love talking about their investment property but we're not so good at talking about our money.
"We know that having money is really exciting. Many people think that budgeting is boring. But you can't have one without the other."
Maxwell is the fresh face of the Commission for Financial Literacy and Retirement Income - an autonomous Crown entity set up in 1993 to help improve the financial wellbeing of New Zealanders.
Her predecessor, Diana Crossan, officially finished her role at the commission in January after a 10-year stint.
Maxwell was seconded into the role of Retirement Commissioner in March from investment regulator at the Financial Markets Authority, where she handled stakeholder relations, and was officially confirmed in the role last month.
Previously she worked for the Bank of New Zealand for five years steering its brand and corporate relations.
At just 46 years old Maxwell is a long way off her planned retirement age of 70 but she doesn't see the role as being about retirement itself.
"It's not about retirement so much as retirement and financial literacy, and the conversation needs to start at five, 10, 15 years and beyond. I have those conversations with my 11-year-old and I will have them with my 1-year-old when he's old enough.
"It's about helping people to understand what they have got to do across a lifetime to reach retirement in good shape."
She says the issue has heightened importance because people are living longer, healthcare costs are going up and there are more people heading into the retirement age group with fewer workers left to pick up the cost.
"When you add it all up it puts pressure on superannuation."
Crossan fell foul of the National-led Government for recommending the age of eligibility for superannuation increase from 65 to 67.
Prime Minister John Key has said he won't increase the eligibility age while he remains in office.
Maxwell won't spell out her view on the issue until later this year when the commission releases its three-yearly review of retirement income policy.
But she is realistic about New Zealand's position.
"In reality we know we have this fiscal gap. What we end up with is a series of levers we need to pull to manage it."
Those levers could include changing the age of eligibility, the eligibility criteria, means-testing or time spent in the country to qualify.
New Zealanders get $350 a week as a single person and $550 as a couple for NZ Super.
"That's not going to keep anybody in luxury."
Maxwell says NZ Super is not the only key to making sure Kiwis are well set up for the future.
There are three pillars to be in good shape in retirement - NZ Super, KiwiSaver and personal savings.
"We know the first one is going to be under significant pressure."
So that means getting started now on getting private savings in shape.
More than two million people have already joined KiwiSaver but there is still a significant portion of the workforce not in the retirement savings scheme; others have joined but then stopped contributing.
Maxwell says starting young is vital.
"For people on low incomes - and let's face it, New Zealand salaries are relatively low - the only way they are going to reach retirement in good shape here is to do it little and long.
"That is the reality if you are on a low income and trying to make ends meet."
Saving money in her 20s is something Maxwell wishes she had been better at.
"I am much better with money now than I was in my 20s.
"In retrospect I wish I had actively saved back in those days when my only dependants were houseplants.
"Instead I squandered a fair bit of money on holidays and footwear.
"I became much better with money when I became a parent and fine-tuned that even further when I was a single parent and money was tight.
"I also learned a lot working in a bank, particularly managing a complaints team, which taught me a lot about human nature and money," Maxwell says.
"Sometimes the line between good and bad decisions is whisker-thin but it can set you on two different paths with very different results."
In the short time she has been with the commission Maxwell has learned there are many groups with a view on how to solve New Zealand's savings issues and all think their solutions are "no brainers".
"My concern is that so far the conversation is limited to a number of people who are already having the conversation."
Maxwell wants to extend it to other parts of the community, especially Maori and Pacific Island people.
Maxwell's husband is Samoan and she says having that link has helped her to understand other cultures and how they see money.
While she was at the BNZ she helped the bank connect with the Pacific Island community through a programme which engaged with families and their church to help with financial literacy.
"We recognised it had to be built around the family and it needed bilingual communicators. There needs to be programmes for different segments of the community. Not everybody learns in the same way."
One issue that really pushes her buttons is third-tier lenders.
"There are a number of predatory lenders targeting Pacific families using religious terminology to engage them and write loans that are not in their best interests," she says.
"A number of people don't go to the bank because they think they will get turned down."
But she says making poor decisions can lead to a downward spiral.
Young people who mess up their credit rating through not paying a phone bill can find themselves blocked from certain jobs and having to go outside major lenders to borrow money.
"They get into a cycle that closes off lines of cheaper credit," Maxwell says.
"We don't want to get a bunch of people to read leaflets. We want people to act differently when it comes to managing money. Because reading a leaflet won't do it."
Maxwell, who is originally from Auckland but spent her childhood and 20s living in London, will split the four-day-a-week role between Wellington and Auckland.
She plans to hire two new staff in Auckland - one an education adviser and the other a person who will work on projects to help Maori/Pacific Island people.
While the commission has a limited supply of funding, Maxwell isn't complaining.
"We have got what we have got. I don't plan to spend all of my time bemoaning the budget."
Maxwell reckons changes to media consumption mean a small amount of money can go a long way.
"I'm planning to climb into social media."
She also wants to consult her former corporate colleagues.
"I am looking to tap into the private sector."
She says the key to private sector partnerships is to be up front about the relationship from the start.
"We agree the terms up front and have the hard conversations to begin with. To date I have found it works. But it's very much on my radar to be aware of any potential compromises."

Diane Maxwell
• Retirement Commissioner
• Age: 46
• Work history: Previously head of stakeholder relations at the Financial Markets Authority for 18 months. Previously head of brand and corporate affairs at the Bank of New Zealand from 2007 to 2011.
• Education: Bachelor of Arts in philosophy and film from Kent University, England.
• Family: Married with two children.