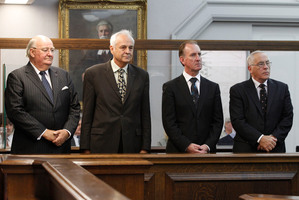 Disgraced former justice minister Sir Douglas Graham will be able to take an hour's walk outside his house every day while serving a newly imposed sentence of home detention.
The Court of Appeal today imposed home detention sentences on all four directors of Lombard Finance, who were convicted of making untrue statements about the company's position in offer documents prior to its collapse.
The new sentences come after the court found the directors' earlier sentences of community work were "manifestly inadequate''.
However, the four will not have to start serving home detention while they make appeals to the Supreme Court.
Graham will also have to wait for the outcome of that appeal before learning whether he will be stripped of his knighthood.
Prime Minister John Key has said he will consider whether to remove Graham's title only after all appeals have been exhausted.
If today's sentence is upheld, Graham will have to serve six months' home detention and undertake 200 hours of community work, 100 hours fewer than his original sentence.
But he would still be able to leave his house each day after the court accepted a submission that his health may present some difficulties ``as he is required to undertake a daily walk for up to one hour''.
The court said was reasonable for a probation officer to allow Graham to exercise outside his home on a daily basis ``on appropriate terms as to duration, frequency and location''.
Fellow director Lawrence Bryant must also serve six months' home detention but the court removed his original sentence of 300 hours of community work due to health issues.
Reparation orders of $100,000 against Graham and Bryant were upheld.
Michael Reeves and Bill Jeffries, also a former justice minister, were sentenced to nine and eight months of home detention respectively.
Their 400-hour community work sentences were reduced to 250 hours each.
The directors' lawyer, Jim Farmer QC, said they would appeal against the sentences, as well as the court's decision to dismiss their appeals against conviction.
The new sentences would be stayed automatically while the appeal process was under way.
Mr Farmer said the directors would not comment further while the matter was before the Supreme Court.
The new sentences were imposed after the Solicitor-General successfully appealed against the directors' community-based sentences.
The Court of Appeal in May also upheld the High Court's finding that the Lombard prospectus in December 2007 had been untrue by omission.
However, the court held off imposing new sentences until today while it considered reports on the home detention addresses of the directors.
Lombard was placed in receivership in 2008, owing $111 million to some 3600 investors.
- APNZ