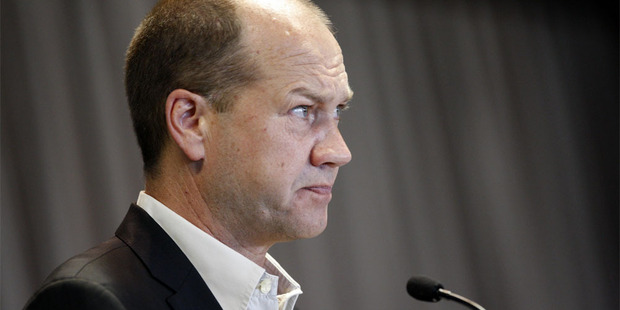 Former Hanover director Mark Hotchin's attempt to join two trustee companies to the Financial Markets Authority's civil case against him and make them contribute to any damages he could be ordered to pay has been dismissed by the Chief High Court Judge.
Hotchin and five other former Hanover directors or promoters are being sued by the FMA for allegedly misleading or untrue statements in finance company prospectuses.
The FMA is seeking compensation for investors who put $35 million into Hanover Finance, Hanover Capital and United Finance between December, 2007, and July 22, 2008.
Hotchin had filed action against the trustee of Hanover Finance, New Zealand Guardian Trust Company, and Perpetual Trust, the trustee of Hanover Capital and United Finance.
Hotchin argued the trustees held a duty of care to investors and that they should contribute to any damages payable if the FMA's case succeeded.
But the trustees fought the attempt to join them as third parties to the proceedings.
Appearing in the High Court at Auckland in March, the trustees applied to have Hotchin's claims against it struck out. While the trustee did have a duties to investors, Guardian's lawyer Ralph Simpson said these were not responsibilities that made it liable in this case.
Guardian's duties did not extend to ensuring the truth of Hanover's prospectus, other than confirming that the terms of the offer to investors complied with the trust deed, he said. Guardian made no other statements to investors regarding information in the offer documents.
In a decision just released publicly, Chief High Court Judge Helen Winkelmann struck out Hotchin's third party claims and ordered him to pay Guardian and Perpetual's costs.
Justice Winkelmann said "the directors and trustees do not share a co-ordinate liability".
"If the FMA claim succeeds, the directors will be liable for the damage flowing from investments made in reliance on those untrue statements. If the trustees have breached their duties, they will be liable for losses incurred while they failed to act. This is not the same damage," she said.
"It cannot be argued that the trustees owed a duty to monitor the prospectuses. The trust deeds, Securities Act and regulations and the prospectuses do not suggest that the trustees have any responsibility for the overall contents of the prospectuses, and the imposition of such a duty would run contrary to the legislative division of responsibilities between issuers, trustees and auditors," the judge said.