Directors admit Securities Act charges but may still face FMA civil proceedings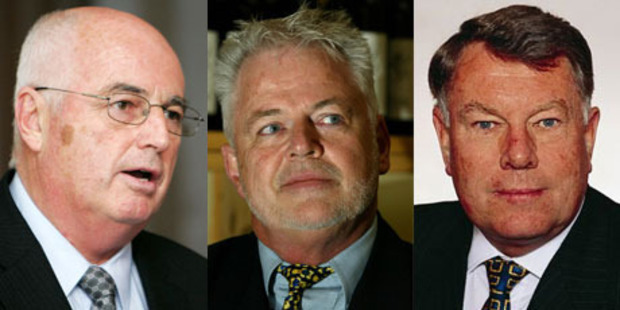 The last men standing from Dominion Finance have now pleaded guilty but could still face further court action if authorities continue with their civil case against the firm's directors and seek penalties of up to $500,000 from each of them.
Dominion Finance and North South Finance directors Rick Bettle and Vance Arkinstall pleaded guilty to five Securities Act charges for signing offer documents that contained untrue statements.
Another director, Paul Forsyth, pleaded guilty to seven Securities Act charges in a case brought by the Financial Markets Authority.
The three men admitted the charges in the High Court at Auckland yesterday before Justice Sarah Katz, just days before their trial was due to start.
Their offending is tied to the finance companies' prospectuses, extension certificates or advertisements and the representations in them.
For instance, some charges arose because related-party lending was not disclosed in Dominion Finance's 2007 prospectus.
Arkinstall and Bettle's summary of facts, which they agreed to, said the men "acted honestly at all times".
"They did not however discharge their director responsibilities as to disclose material information to investors. They did not take the steps required to ensure that they were aware of the true position of the company," it said.
Forsyth's was more harsh. Although it accepted he had acted honestly, it said: "He was grossly negligent in that he abdicated his director responsibilities."
The trio are due to be sentenced August 16 and Justice Katz ordered pre-sentence reports with home detention appendices.
Fellow Dominion director Robert Whale also pleaded guilty and was sentenced this month to 12 months' home detention, 250 hours of community service and was ordered to pay $75,000 in reparations.
Another board member, Anne Butler, received a nine-month home detention sentence and was ordered to pay $300,000 in reparations and to do 80 hours of community service.
She is serving the term in a Remuera mansion, which QV says has a capital value of $6.8 million.
QV lists the owner of the property as Makuri Saunders Trustee, and the Companies Office says Butler is the sole shareholder.
Butler's husband, Terry, was facing charges but died this year.
While Bettle, Arkinstall and Forsyth are the last of the Dominion directors to be sentenced, the FMA may still bring a civil case against the directors.
The authority filed civil proceedings against the directors in 2010 under the Securities Act.
The civil proceedings are stayed until the criminal case is over.
Dominion Finance and North South Finance
• Dominion Finance Group and North South Finance were sister companies and operating subsidiaries of the NZX-listed Dominion Finance Holdings.
• Both offered property and commercial loans.
• North South went into receivership in July 2010 owing $31 million to 3900 debenture holders, expected to get back 65c to 70c in the dollar.
• DFG went into receivership in September 2008 owing $176.9 million to about 6000 investors, who receivers estimate will recover 10c to 25c in the dollar.