After losing her footing in the Christchurch quakes, Suzannah Tonascia, purveyor of designer fabrics and furnishings, is back in business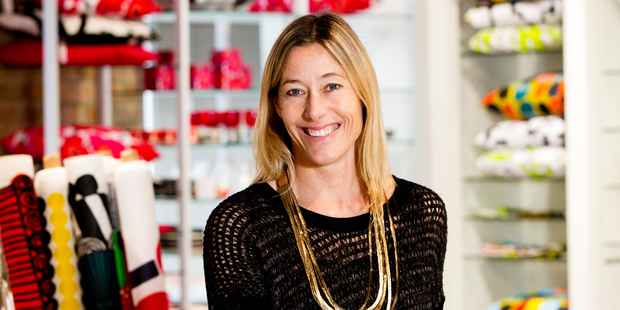 At least we've had an interesting life," laughs Suzannah Tonascia, owner of Bolt of Cloth, the latest addition to Newmarket's Osborne Lane. After losing her flagship store and workspace in the Christchurch earthquake of February 2011, as well as her home in Sumner, Tonascia is excited to be making progress with her business again.
Bolt of Cloth's beautiful new Auckland store is something to be positive about. Vibrant patterns greet you from every angle and examples of Bolt of Cloth's custom-made fabric lampshades, cushion covers, blinds and large-scale canvases line the space. Cult Finnish brand Marimekko has set up its first Australasian destination as a "store-in-store" within Bolt of Cloth, offering quirky seasonal collections alongside classic Marimekko designs.
"It's exciting to create a beautiful store and an experience for people, to develop the brand and grow the business back to where we were," says Tonascia.
"We would have liked to have a presence in Auckland two years ago, but that wasn't possible, so it's been really exciting to take Bolt of Cloth out to the world and start creating things again."
Bolt of Cloth began in 2009, initially as an online concept. Tonascia soon realised the products' tactile nature lent itself perfectly to a physical store, so they opened their doors on Christchurch's Madras St. Tonascia saw a gap in the market for contemporary textiles, as everything you could buy at the time was either "very English or very French". Looking for modern textiles that were fun and accessible was the starting point, as was her desire to support local designers and production.
Offering a mix of local and international textile prints from favourites such as Florence Broadhurst, Ingrid Anderson, Alexander Henry and Marimekko, Bolt of Cloth strives for exclusivity, seeking out fabrics you won't find elsewhere. Located in the thick of the red zone, the Madras St store offered a multi-functional space in which customers could see the entire production process. "We had all the fabric on the bolt, and we had our team sewing and making things in the store alongside the fabrics, so you could see behind the scenes."
When the store came down in the earthquake, it was a stressful time for the business. "It was so frustrating trying to keep your business going and pretending that everything is normal to the outside world - but it wasn't at all."
Tonascia, her husband and two children relocated to her hometown of Martinborough and commuted to Christchurch each week until they found a home to rent. It took her three months to retrieve all the undamaged stock and equipment from the store, and as the local retail environment slowly came back to life she found a tiny space in October 2011 and had to reinvent a way to fit her 800 fabrics into the store. She came up with a new system where all the fabrics were on display as swatches and you could view the full drops of fabric on in-store iPads linked to the website. The fabric would then be cut and couriered to customers from the off-site workroom.
Growing the web side of the business was Bolt of Cloth's lifeblood during this time and continues to be a significant element of the business today, especially for customers outside of the city centres.
"It has taken a lot of time and energy to get back on our feet and clean things up, and move, and move, and move," says Tonascia. "Every time there was another earthquake and something would break, you have to tidy it up. I'm really excited to finally be in Auckland and am looking forward to the reaction I get to the store here."
Bolt of Cloth has a busy few months ahead, as the company works to re-establish a united retail and production space within the new Christchurch Tannery development, opening in September. The Tannery spaces are ideal for artisanal businesses that need a workroom and retail space.
"I'm looking forward to having a place for my guys to work that's not a warehouse in the middle of nowhere," says Tonascia.
"The place will be full of restaurants, bars and shops, and is a really nice place for both people in Christchurch and tourists to visit."
Tonascia touts the Osborne Lane premises as Bolt of Cloth's new flagship store, while the future Tannery space will be her home base from which all the sewing, storage and orders will come.
After her professional and personal ordeals, Tonascia is excited to now be making her business dreams a reality.
"It's really nice to be back on the track we envisaged ourselves going on."


• Bolt of Cloth, 8/2 Osborne St, Newmarket. boltofcloth.com
- VIVA