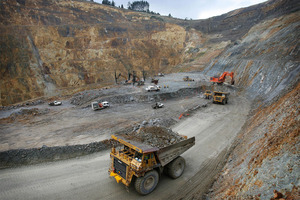 Australian shares have posted their largest one-day loss in two months as nervous investors looked to steep falls on Asian markets over fears of a credit crunch in China.
Chinese shares slumped more than 5 per cent yesterday as the government showed little willingness to address a liquidity squeeze in the domestic financial system.
Markets fear the move could hurt economic growth.
The benchmark Shanghai Composite Index lost 113.67 points, or 5.48 per cent, to 1959.42 in afternoon trade, breaching the 2000-point level analysts had pegged as support.
IG Markets' Evan Lucas said the news from China, including rate jitters and perceptions about the crackdown on shadow banking were hurting the local market.
"They're talking about looking at policy changes but not actually implementing them yet," Lucas said.
China-focused resources companies were hit hard, as was financial services company AMP.
Nearly A$1.9 billion has been wiped off the market value of wealth manager AMP after it warned of a fall in its first half profit.
AMP shares fell 64c, or 12.8 per cent, to $4.34.
Mining giant BHP Billiton fell 3.4 per cent to $31.35 while Rio Tinto shares lost 2.1 per cent to A$51.54.
It came after Rio Tinto announced it has taken its diamonds business off the market.
Gold miner Newcrest closed below A$10 for the first time in a decade, losing 7.9 per cent to A$9.53 while Fortescue Metals shares fell below A$3 for the first time since September last year, finishing the day 4.2 per cent lower at A$2.92.
Banking stocks were also in the red, with Commonwealth Bank losing 32c to A$65.74, ANZ shedding 3c to A$27.38. National Australia Bank gave up 30c to A$28.68 and Westpac fell 17c to A$27.55.
Shares in supermarket group Metcash rose 4.9 per cent to A$3.61 after a 6.9 per cent profit lift.
- AAP