Tournament attracts corporate tenants after enhancing features of city works building.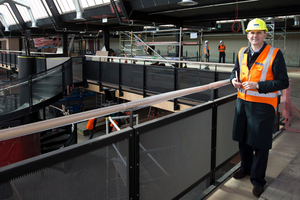 'It was unbelievable," says Tournament Parking director James Brown of the old City Works Depot buildings. "People didn't look at what was in front of them."
For many years, developers planned to demolish the 2ha industrial-style three-level fanlight-topped building, whose old features are now enhanced after Cheshire Architects' Nat Cheshire set to work.
Concrete floors are polished, windows double-glazed, air conditioning systems installed, walls and ceilings insulated and floor-to-ceiling glass entry doors built behind the industrial rollerdoors to up-spec the building which Brown said was more than half a century old. Graffiti on walls around the site has been eradicated and the Wellesley St entrance is via a grand statement gateway.
A shed along the Nelson St boundary is home to Michael van de Elzen's Food Truck Garage beside Dry & Tea. Three Beans Coffee Roasters, Best Ugly Bagels, Brothers Brewery and Scratch Bakers are in the main old depot building which Brown said stood empty for about 15 years.
The former Auckland City Council had serviced its buses, trucks, road-building equipment and other vehicles from the buildings but Brown said that about 15 years ago, the property was sold to a Chinese business which then sold it to Starline's Jamie Peters, now bankrupted and in the High Court last week facing an extension of that.
Then, developer Doug Rikard-Bell got the site but failed to build his Rhubarb Lane after Westpac called a halt to the $600 million 20-building scheme. While pipe dreams were dreamt, Tournament profitably operated 900 parking spaces, initially charging $6/day a decade ago, now $13/day.
Some schemes were so grand that they might not have even worked in New York, Brown said.
Tournament now operates 700 parking spaces but will reduce these as parts of the site are developed.
"Soon, it will be at a point where we won't have many," Brown said.
Y&R New Zealand is one of the larger tenants. Bauer Media will move more than 300 people from the Wynyard Quarter next month, taking an eight-year lease on 4000sq m in Shed 12 on the northern side.
Brown says rents were generally in the $200/sq m to $300/sq m ballpark.
But not everything worked out as planned: Tournament's plan of moving Fonterra to the site failed.
"The only reason we pitched to Fonterra was because they asked," Brown said of the job, won by Goodman Property Trust and Fletcher Building, which will develop new headquarters on Fanshawe St.
Tenants to move to Tournament's site include Optima and Born Digital and Tournament itself has an office in the main buildings.
"You just can't find anywhere like this in the city. It's unique," Brown said of the buildings, site size, uses and potential. "There are two great things going for New Zealand at the moment and one of them is Auckland and the other is our dairy industry."
He supports the Central Rail Link, saying new stations along the route have the potential to add considerable life and vibrancy to the city.
"It regenerates all those areas," he said.
Cheshire said the site's size and building style were unique.
"It's the last and perhaps the only large-scale industrial building in the central city, with astonishing artillery-style sheds, based on American tank factories because the architect Ewan Wainscott went to America to look at those. It's wonderfully heroic stuff. The city was built out of those sheds. Graders and bulldozers rolled out and when the council was a construction company as well as a governing body," Cheshire said.
City works depot
*Spans Wellesley St, Nelson St, Cook St, Sale St.
*Designed by Ewan Wainscott.
*Opened for Auckland City Council in 1968.
*Won NZIA awards 1969, 1970.
*In Victoria Quarter, western CBD fringe.
*2.9ha site owned by Tournament Parking.
*15,000sq m of 20,000sq m floor space leased.