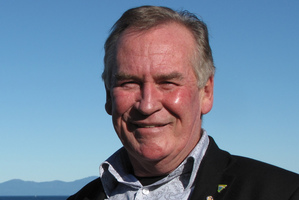 Taupo Mayor Rick Cooper says he's shattered by news the Taupo District Council is being investigated by the Serious Fraud Office.
Mr Cooper said he didn't know what the alleged fraud was in relation to or who it involved.
He challenged whoever made a complaint to "put up or shut up''. He believed there was a vendetta against the council and that people were trying to manipulate public opinion.
"I do believe that there's someone or some people are being very, very mischievous in the public and are screwing the scrum to suit their own ends,'' Mr Cooper said.
"If there's somebody in the community that thinks there's something wrong in this council, please let me know and I'll personally open any file book or anything and have a look.''
Mr Cooper and the Taupo district councillors were told last week that the SFO had launched an investigation but were given no more detail.
The SFO focuses on serious or complex fraud in which there are multiple victims, the sum of money lost exceeds $2 million, or has significant legal or financial complexity beyond the resources of most other law enforcement agencies. Its brief includes bribery and corruption crimes involving public officials.
The SFO will not make any comment on the investigation and all that acting chief executive Simon McArley has said is that the office is investigating.
"We have received complaints in relation to matters relating to Taupo District Council,'' he said in a statement.
"SFO is continuing its investigation of those matters, but is unable to provide any further detail in relation to them at this time.''
For more articles from this region, go to Rotorua Daily Post