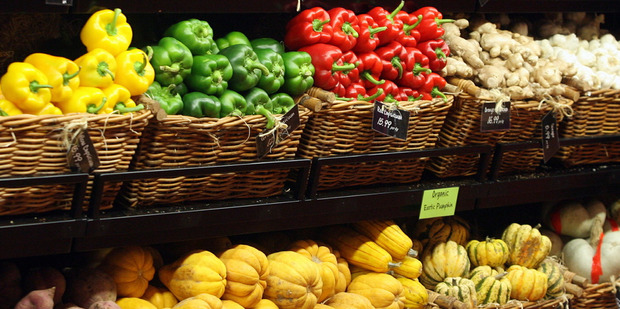 New Zealand food prices rose for a second month in May, led by more expensive fruit and vegetables.
Prices advanced 0.3 per cent in May from April when they gained 0.2 per cent, according to Statistics New Zealand. Prices were down 0.1 per cent from May last year.
Food prices make up about 19 per cent of the consumers price index which will be released for the second quarter on July 16. The Reserve Bank yesterday forecast inflation of 0.3 per cent for the quarter, taking annual inflation to 0.8 per cent, making it the fourth quarter in a row below the central bank's target of between 1 per cent and 3 per cent.
The central bank forecasts the annual CPI to return to the band in the third quarter, rising above 2 per cent in June 2015, when interest rates are tipped to start increasing as domestic demand spurs inflationary pressures.
"Food price inflation remains subdued and will continue to contribute to weak headline inflation outcomes in the near term," ASB economist Jane Turner said in a note. "The Reserve Bank has to weigh up low headline inflation now against the expectation of increased inflation pressures in the next few years as the economy gradually recovers."
Prices of fruit and vegetables rose 2.1 per cent in May, influenced by higher costs for lettuce and cucumbers. A drop in kiwifruit and mandarin prices partly offset the gains.
Meat, poultry and fish prices rose 0.5 per cent from April as less discounting pushed up sausage prices 9.9 per cent. Prices for chicken pieces dropped 7.7 per cent on more discounting.
Grocery food prices increased 0.1 per cent as butter jumped 27 per cent, cheese gained 4.7 per cent and chocolate advanced 2.8 per cent. Non-alcoholic beverage prices fell 0.9 per cent as soft drinks weakened 1.2 per cent and packaged coffee slipped 4.6 per cent.