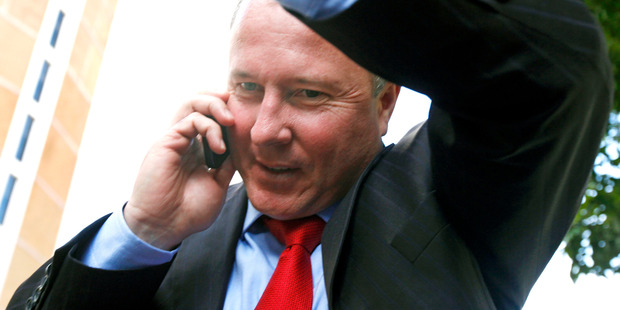 Ex-rich-lister Jamie Peters entered into a finance agreement on a Mercedes-Benz r500 and was a guarantor for a finance agreement for a Bentley Continental GT during a period when he was unable to pay debts when they fell due, the High Court heard today.
The court also heard that in 2010 the bankrupt's fiancee received $62,000 for a "substantial round-the-world trip" from a company Peters once directed.
Peters, 42, is having his financial affairs probed in the High Court this week, where the Official Assignee (OA) is pushing for him to stay bankrupt for a further three years.
The former property developer was declared bankrupt in October 2009, owing over $100 million.
According to OA lawyer Gareth Neil, Peters told the Crown body at the time he was made bankrupt that he had been unable to pay debts when they fell due from about 24 months before this.
In court today Neil brought up two financial agreements involving Peters and Mercedes-Benz Financial Services.
The first was for a 2006 Mercedes Benz r500, which Neil said personally involved Peter.
Another was a financial agreement relating to a 2005 Bentley Continental GT, which Neil said listed Peters as a guarantor.
The agreements were both dated February 9, 2008, which Neil said was in the period before his bankruptcy in which Peters had acknowledged he had been unable to pay his debts when they fell due.
Neil also questioned Peters about the funding of a six week "round-the-world trip" the bankrupt and his then-fiancee had taken in 2010.
In his application to the OA for travel, Peters had said the person responsible for paying airfares and expenses was Rebecca Burton, who is now the bankrupt's wife.
However, between April and June of that year $62,000 was put into Burton's account for travel costs.
According to statements Neil referenced in court the funds came from a company called Starline Utilities, which Peters directed until July 2009.
Peters' friend Michael Skates - who gifted money to the former developer during his bankruptcy - took over directing the company at that time.
The bankrupt agreed today that his fiancee's income meant she was not in a position to fund the trip and accepted he had not disclosed to the OA that the holiday would be paid for by Starline Utilities.
The hearing is due to continue on Friday and will likely run until next week.
Peters appeared on the National Business Review's Rich List in 2005 as being worth $40 million and in 2006 with $45 million.