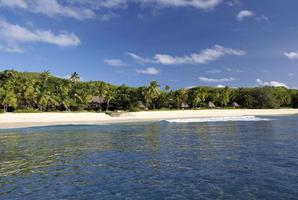 Anita Cranston continued to take bookings for her partner's lavish Fiji villa, despite two men making separate legal bids to take ownership of the home.
Cranston has denied 24 charges of using documents to get $60,000 worth of deposits from would-be holidaymakers looking to rent the luxury home in Denarau, Fiji.
The court has previously heard from Crown prosecutor Rachael Reed who said a wedding party and a family celebrating a 50th birthday were among those who lost their deposit money.
Cranston's fiance Craig Mudgeway - who was jointly charged with Cranston before his death - had bought the $2.5 million home which featured four bedrooms and bathrooms, a pool, a spa and a garage full of holiday toys.
As well as a Family Court caveat from Mudgeway's estranged wife, the property was also the subject of two separate High Court legal wrangles.
Mudgeway had agreed to sell the property but Cranston said he tried to back-out of the deal after he discovered the $1.8m offer was in Fiji dollars, not Australian.
A separate bid in the High Court concerned Mudgeway's failed attempt to re-finance his mortgage.
Giving evidence in her own defence today, Cranston was taken through a series of emails sent from people interested in renting the house.
She said she had been responsible for taking bookings and only ever hoped that the holidaymakers would have a good time.
In May, 2011, Cranston got in contact with a prospective renter and told him his deposit would be refunded because of the legal action.
But the next day she said she saw a letter from her lawyer which said "The chances of getting your house back are even better than money."
She then took another booking.
"My understanding was that everything was just business as usual."
Judge David Harvey asked the former promotions company owner why she had been "up-front" with one holiday maker but not the second.
Cranston replied: "I understood from Craig that the property was safe".
Judge Harvey responded: "Do you have a judgement yourself?"
Cranston said: "No, because Craig told me everything would be ok. He was my source for information."
She said Mudgeway - a property developer - had money coming from personal loans he had made, but some people weren't paying the money back.
One of those was former Blue Chip boss Mark Bryers, who Cranston said owed Mudgeway $1.2 million.
In her opening address, Cranston's lawyer Alice Kemp said while her client could be open to civil action, she had not committed a criminal offence.
But the Crown said Cranston and Mudgeway spent the money received from 19 people to maintain a lifestyle that included a rented apartment in Auckland's Sentinel building. Some holidaymakers were double-booked while Cranston knew of her fiance's failing financial situation.
The hearing, before Judge David Harvey, is set down for two weeks.
- APNZ