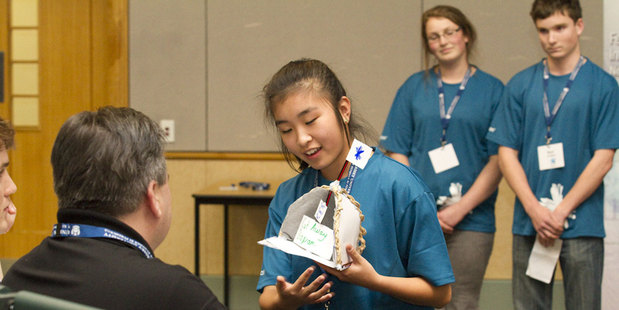 New Zealand's top young entrepreneurs are about to have their business acumen tested as they compete to represent the country at an international trade challenge.
About 80 students, aged 16 to 18-years old, are taking part in the Junior Achievement International Trade Challenge (ITC) at Massey University in Auckland this weekend.
Hosted by the Young Enterprise Scheme (YES), the event gives students the chance to learn about international trade and fight it out for one of six places on the Kiwi team to compete at the Asia Pacific final in Hong Kong in August.
Students are placed in teams and have a few hours to develop a prototype product or service, write a business plan to support it, and present back in a multi-media format to a judging panel.
Groups last year were tasked with creating a market strategy to export a wood-based product to Indonesia and proposals included kitset cardboard houses, bed frames, tea filters made to purify water, and pine-based drink bottles.
To qualify for a spot at the weekend event, students must be members of YES, which sees them create and run a new business for a year.
Terry Shubkin, chief executive of YES, said the event was a great opportunity for students to put the business skills they had learned from the programme to the test in "a real pressure cooker environment".
"We've had tremendous support from the business community who see this weekend event as a way of nurturing the future business minds of tomorrow."
Kim Garner, managing director of main sponsor FedEx Australasia, said New Zealand had a history of producing entrepreneurs who created successful global brands and the trade challenge aimed to support that tradition.
"As budding entrepreneurs, these students need to develop a global mind-set and understand the economic, social and cultural complexities of different countries to be successful on the global stage," she said.
Economic Development Minister will open the event, which culminates in a judging panel of business leaders and past winners choosing six winning students.
Before heading to Hong Kong in August, the six take part in a two-day training workshop to hone their skills for the Asia-Pacific regional final.
Since 2007, more than 240 students from schools throughout New Zealand have taken part in the FedEx trade challenge.