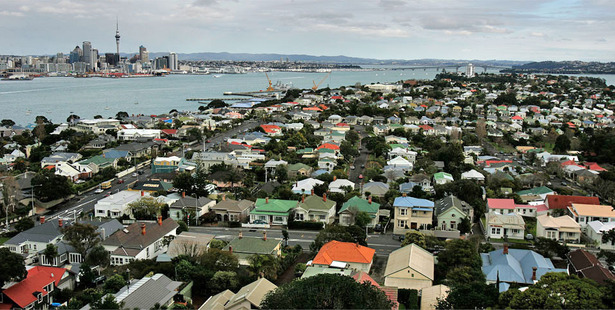 New Zealand property values held their annual pace of growth last month, as demand outstripped supply in Auckland and Christchurch, according to state valuer Quotable Value.
National property values increased 7.1 per cent in the 12 months ended May 31, matching the annual pace for April, the agency said in a statement. Property values increased 1.7 per cent in the three months ended May, up from a 1.3 per cent quarterly pace in April, it said.
"Values are increasing fastest in Auckland and to a lesser extent Christchurch, with both cities driven by a lack of supply," said QV research director Jonno Ingerson. "Values are likely to continue to increase in the coming months."
The Reserve Bank plans to use new macro-prudential tools to restrict the volume of low equity mortgages as pressure in the housing market poses a risk to financial stability.
Most economists expect the central bank will also raise the benchmark interest rate from a record low 2.5 per cent next year in part to contain the housing market in Auckland, where a supply shortage has driven up prices, and Christchurch, embarked on a massive rebuild after the earthquakes.
"It is becoming increasingly appropriate for the Reserve Bank to lift interest rates from very low levels in order to keep demand in check," ASB senior economist Jane Turner said in a statement. "While blocking access to credit might choke off demand in some instances, it is unlikely to have much impact on demand for prospective buyers in strong capital positions, particularly while interest rates remain at very low levels."
"We see the official cash rate as the most effective tool in reducing housing market pressures," Turner said. "We continue to expect the Reserve Bank to lift the official cash rate from March 2014."
Auckland property values were up 12.7 per cent from a year earlier, while Christchurch values increased 10 per cent and Wellington values gained 2.7 per cent, QV said. Hamilton property values edged up 4.3 per cent from last year and Dunedin values rose 4.2 per cent.
"Prices are still very high across Auckland as a somewhat desperate feel amongst buyers who are searching for good properties at reasonable prices is appearing," said QV operations manager Kerry Stewart. "The speed with which people have to make an offer has seen some forego the usual due diligence, which leaves them exposed to potential risks associated with the property."
House values are 5 per cent above the previous market peak of late 2007, QV said.
House prices in New Zealand are 25 per cent over-valued, the International Monetary Fund said last month. Prices rose 9.8 per cent in the year ended in April, based on the Real Estate Institute's stratified median housing price index, led by Auckland and Christchurch.
Consumer confidence boosted property values in main centres while values were more variable in rural towns in response to local economic conditions, QV said.