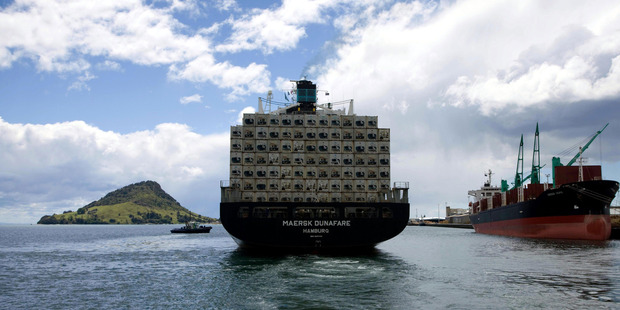 New Zealand's primary sector exports may shrug off some of the lingering effects of drought to grow 2.2 per cent in 2014, and accelerate through 2017 as growth in dairy makes up for subdued meat and wool trade.
Exports of dairy, meat, wool, forestry, horticulture and seafood are forecast to reach $24.1 billion in the year ending June 30, 2014, and grow at a compound annual rate of 7.4 per cent to reach $29.5 billion by 2017, according to the Situation and Outlook for Primary Industries 2013. Demand from Asia, improving global growth and a weaker kiwi dollar, will drive the gains.
The impact of drought in the first quarter is forecast to slice $1.3 billion from primary sector exports in the year ending this month, according to the Ministry of Primary Industries. The ministry has set an aspirational goal of doubling the value of primary sector exports by 2025, though it concedes this relies on programmes to lift productivity as it can't be achieved on current projections.
The bullish outlook for growth is driven by the dairy sector, with a modest increase in cow numbers and productivity lifting exports by 8 per cent to $14 billion in 2014 and an average 8 per cent growth rate through 2017, when exports are forecast to be $17.7 billion.
Milk solids production probably fell 1.2 per cent to 1.665 million kilograms in the year ended May 31, the first year-on-year decline since the 2007-2008 drought. Production is forecast to rise 4.5 per cent in 2014 to 1.74 million kgMS.
"A modest increase in milk solids production is expected in the 2013/2014 season," the ministry said in the report. "Milk yield per cow, which decreased by 5.2 per cent in the current season, is expected to bounce back in the 2013/14 season based on a return to average climatic conditions."
The ministry's assessment tallies with Fonterra's assessment that dairy prices will remain elevated through 2014, given global supply shortages and rising demand. The ministry's farm gate milk price forecast for 2014 of $5.90 per kgMS was finalised several months ago, which is why it lags behind Fonterra's $7 forecast, an official said today.
The outlook for meat and wool is subdued by comparison. The value of beef exports is forecast to sink 3.3 per cent to $1.9 billion in the June 2013 year, even as volumes hold almost unchanged at 347,000 tonnes.
The decline accelerates in 2014, with a 5.9 per cent drop to $1.83 billion on volume of 333,000 tonnes. Prices recover in 2015 to reach $2.17 billion by 2017, while volumes are forecast to hold at about 2014 levels.
Lamb suffers more. Exports are forecast to tumble 16.4 per cent to $1.93 billion in the June 2013 year, on a 20 per cent drop in prices and a 4.8 per cent decline in volumes to 266,000 tonnes. Lamb exports are seen weakening through 2017 to $1.925 billion, as volume falls to 249,000 tonnes.
Venison exports are forecast to fall 1.3 per cent to 15,000 tonnes this year while the value falls 12 per cent to $181 million. By 2017, the volume is seen sliding to 12,300 tonnes and the value to $172 million.
"The meat industry faces challenging times ahead, as drought impacts have added to existing competitive pressures for land use," the report said.
Wool exports rose to 116,000 tonnes this year from 113,000 tonnes while the value of exports falls to $633 million from $756 million. Volumes are forecast to weaken to 104,000 tonnes in 2014 and the value to drop to $573 million. By 2017, volume is down to 109,000 tonnes while a price recovery nudges the value of exports back up to $707 million.
Forestry exports rise to $4.29 billion in the year ending this month, from $4.27 billion a year earlier. The freight on board price for logs rises to $119 per cubic metre from $114, while the volume increases to 13.9 million cubic metres. By 2017 the price has gained to $140/cubic metre and the volume to 14.7 million cubic metres.
Timber rises 2.7 per cent to $383/m3 this year as the volume edges up to 2.1 million m3, and reaches $441/m3 by 2017, as volumes remain unchanged. Panels fall 6.8 per cent to $482/m3 this year as the volume rises 0.9 per cent to 964,000 m3. By 2017, the price has gained to $542/m3 and the volume to 1.03 million m3.
Pulp prices fall 13 per cent to $590/tonne this year as the volume rises 3.4 per cent to 856,000 tonnes. The price rebounds to $639 a tonne in 2017 and the volume to 846,000 tonnes.
Wine exports are expected to fall 7.8 per cent to 165 million litres this year while the value is seen little changed at 1.2 billion. By 2017, the volume has gained to 190 million litres and the value to $1.5 billion, the report said.
Kiwifruit exports fell 9 per cent to 101 million trays in the year ended March 31 and will tumbled to just 88 million trays in 2014. The value of exports is seen little changed at $1.04 billion this year, falling to $830 million. In the 2017 year, volumes are forecast to be back at 101 million trays while the value has risen to $1.2 billion.
Apple and pear exports are seen rising to 16.8 million cartons in calendar 2013 from 16 million last year, while the value gains to $444 million from $400 million. By 2016, the volume is seen at 17 million cartons and $459 million in value.
Vegetable exports are forecast to rise to $590 million in calendar 2013 from $579 million last year as fresh vegetable volumes fall 1.6 per cent to 307,000 tonnes and processed vegetables rise 3.1 per cent to 200,000 tonnes. Forecasts weren't provided for later years.
Seafood exports rise to 301,000 tonnes in the year ending June 30, 2013, from 292,000 tonnes a year earlier, while the value is little changed at $1.51 billion. By 2017, volumes have edged up to 306,000 tonnes and the value to $1.78 billion.