It can be an attractive alternative to architecture or graphic design and it can offer more job prospects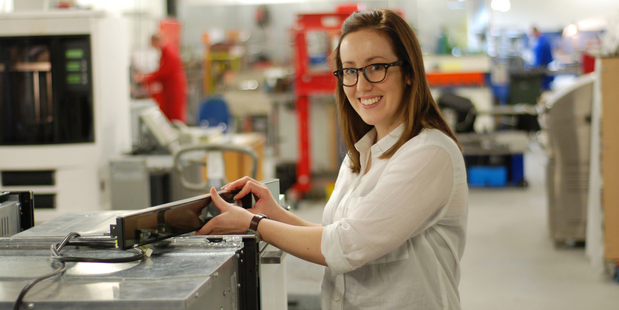 Of all the careers in design, industrial design, one could argue, is one of the most interesting routes to take.
Practitioners can work in a wide number of industries coming up with solutions for consumers, whether it be the design of a new car, an umbrella, a computer or a dishwasher.
For those who have an eye for design, are good team players and have deft communication skills, it can be an attractive alternative to architecture or graphic design and it can offer more job prospects.
Fisher & Paykel Appliances, now a subsidiary of China's Haier, recently announced it was expanding to grow the company's technology innovation and new product development. It will be recruiting 100 new staff for research and development roles at its Auckland and Dunedin design centres over the next two years.
This is all good news for the head of industrial design at Fisher & Paykel Appliances, Mark Elmore.
"The exciting thing is they [Haier] have understood our aspirations to be a global brand," he says. Elmore and his bosses have a very clear five year plan and want diversity in the team, which will be multi-disciplinary. At the moment the industrial design team is about 40/60 women and men.
Elmore himself came to the appliances firm straight from university. He led the team that created the F&P DishDrawer. The Massey University graduate was also the recent winner of the prestigious Black Pin design award from the Designers Institute of New Zealand.
"Industrial design," says Elmore, "is any product that is manufactured, and involves the consumer interacting with it, where industrial design can add value." It's thinking about how you physically use it, he adds.
The team leader sees industrial design as the understanding of the consumer and their patterns of use around a product and the psychology of use. It's understanding what makes people tick, says Elmore.
At F&P, human interaction with appliances such as fridges, ranges, rangehoods, whiteware washers and dryers is something the staff are involved with every day.
"It's about putting yourself in the mind of the user, a very valuable thing to be able to do," says Elmore.
"With our design team, we live and breathe the product. At lunchtime, we cook food, we have a food blog and post recipes online. We are interested in how the product is being used." The F&P staff are also encouraged to bring in their washing, to test drive their washing machines and dryers.
The F&P industrial design team has developed relationships with chefs, designers and architects over the years. "It helps to inform our process," says Elmore. "That's how products like the DishDrawer come about. People are living out of drawers these days. Everything in the kitchen is in drawers so you don't have to bend down."
Elmore and his team travel outside New Zealand to help them understand global trends in other markets being targeted by F&P.
"We have spent a lot of time in developing markets such as North America understanding the consumer," he says. "The idea is to really understand the markets, their cultural differences, the way that people set up their homes, and bring that back here."
As an industrial designer, you have to have the creativity and ability to look at things at quite a deep level, he adds. And as well as identifying different patterns and being innovative, the ability to collaborate is crucial. "Otherwise your idea stays in a vacuum. It's a non-ego environment."
A lot of debate goes on at F&P about a new product, so you have to be tough-skinned, says Lauren Palmer, a young industrial designer at the company, recently promoted to chief designer for cooking at F&P in Dunedin. It is her job to manage the team that creates world class innovative cooking appliances, shepherding a product from an idea to completion.
Palmer remembers robust critique sessions during her degree studies at Victoria University.
"It does set you up for presenting. There is no room for a precious ego. They will rip you to pieces. We get the same thing here from our own industrial design team. A large part of our job is being able to absorb that and break it down," she says.
The chief designer says when she was at school she was good at art, English and maths, toying at one time with doing law. In her final school year she took calculus, English, art, chemistry and biology.
The industrial designer says she uses her aptitude for English at work. "Communicating is so crucial, being able to articulate what's important about a new product to an audience."
The 29-year-old has watched with interest to see what the graduates from her course at university have done next. Four out of 24 in the class were women, but there were more women in other years, she says.
Two of her fellow women students are working for stroller and buggy company Phil & Teds, designing baby buggies. A male colleague, meanwhile is doing set design and interactive theatre, while another is doing interactive lighting and experiential design.
Palmer is very happy with the direction her career has taken. "I love cooking, it's my hobby outside of work too. I love the programme, Top Chef, she says.