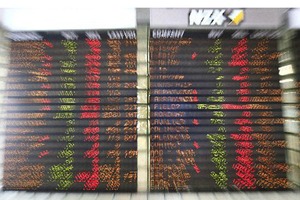 The New Zealand sharemarket is expected to remain volatile over coming weeks as investors take profits amid jitters over the US Federal Reserve turning off its money tap.
The NZX-50 closed flat yesterday, up 0.04 per cent at 4455.33, after markets around the world fell from their mid-May highs.
Calculations by Mark Lister, head of private wealth research at Craigs Investment Partners, show New Zealand's benchmark index has fallen about 4.7 per cent since May 13, just three days after the listing of Mighty River Power.
Australia's ASX 200 and London's FTSE100 are both down 6.2 per cent since May peaks and America's S&P500 has fallen 3.6 per cent.
Lister said markets had had such a good run that people had been looking for an excuse for a sell-off. "Markets don't go up in straight lines forever."
The sell-down locally and internationally was also being influenced by concerns about America reducing its quantitative easing, he said. "Markets have been living off that stimulus and if you take it away there is concern about how markets will survive on their own."
Lister said ironically the talk on the quantitative easing being turned off was because the world was starting to stand on its on two feet without help.
He warned the transition period would make for a volatile time with investors taking a glass-half-empty view.
"I think the next few months will be volatile. We could see a bit more weakness."
Grant Williamson, a director at Hamilton Hindin Greene, expected there to be more downside to come.
"We are not over it yet - we may see [a] little bit more downside."
However, Williamson said there were some positives to take from it with those brave enough able to use it as a buying opportunity.
"We are just viewing it as a profit-taking correction."