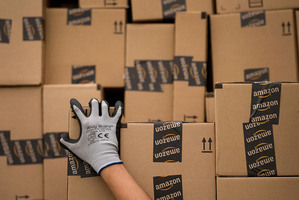 FRANCE v AMAZON
France has gone to war against Amazon, pledging €9 million ($14.8 million) to help French booksellers fight back against the US giant. "Everyone has had enough of Amazon, which by dumping practices, slashes prices to get a foothold in markets only to raise them as soon as they have established a virtual monopoly," said culture minister Aurelie Filippetti. She also said she was considering banning Amazon from offering free postage, and may stop the permitted 5 per cent discount on books - the maximum allowed in France, where book prices are fixed by law.
SEAT SHUFFLE
Behind the scenes, the process for what could be a major redrawing of electorate boundaries has started. Statistics NZ is compiling the population mapping, which has not been done for seven years. Politicians, meanwhile, are working on who will sit on the Representation Commission, which works out the boundaries, which shift as a result of population changes. Under MMP, electorates don't matter in the grand scheme of things, but they mean a lot to MPs and their parties.
Officials have been working on the basis of being able to announce in October the number of general and Maori electorates for elections next year and in 2017, and the Representation Commission revealing proposed boundaries in November and giving final decisions next April. How this will fit in with Statistics NZ's plan to release population statistics in December is yet to be seen.
WIN FOR DIRECTORS
Furious lobbying from the commercial world has resulted in Commerce Minister Craig Foss softening plans to impose greater criminal sanctions on directors for failing in their duties. The objectors claimed that many directors would walk away if it became a criminal offence for them to let a business be managed in a way that created a substantial risk of a serious loss to its creditors. Now, directors will face criminal sanctions only if they knowingly let creditors suffer a serious loss, or if they act against the best interests of the company.
COMPANIONSHIP
There must have been a little extra spice at the Telecom Board meeting this week, after two of the company's seven directors received identical gongs in the Queen's Birthday honours. Saatchi & Saatchi global supremo Kevin Roberts and Dr Murray Horn, an experienced company director, both became Companions of the New Zealand Order of Merit.
CHEQUE-MATE
If you've got a beef with your local council, try not to use your cheque account to make your point. The Banking Ombudsman's office reports on one irate ratepayer, who made his rates cheque out to "XX City Zoo." Unfortunately, the council deposited the cheque and the bank cleared it. The outraged ratepayer then complained that the council had stolen his money, but refused its offer of a refund because it didn't include interest for the time the money wasn't in his account. He then complained to the Ombudsman's office, which negotiated a payment from the bank - which he also rejected.
PLANE PERK
As perks go, here's one that beats a company carpark. Google has teamed up with an aviation company to build a US$82 million ($103 million) facility at California's San Jose airport that will include a private terminal for aircraft owned by the company chairman, Eric Schmidt, and founders Sergey Brin and Larry Page. The Techcrunch website says, the three have eight planes among them, including a Boeing 767.
CHANGING THE LOCKS
The Ministry of Social Development has had a few computer security issues lately; now it is addressing more tangible security issues. The ministry is seeking changes to the supply of locksmith services for its properties. It wants to consolidate its locksmith work - and that's a lot of locks, not only in ministry offices, but also in Child, Youth and Family facilities and Work and Income properties.
TREAT TOP-UPS
The the treaty settlement between the Crown and Tuhoe is perhaps the most remarkable in whole settlement process. It will also undoubtedly trigger the relativity clauses in the first deals with Ngai Tahu and Tainui. The two tribes received about $170 million apiece in the 1990s to settle their grievances, with an arrangement that the first iwi to sign would get a top-up if subsequent treaty settlements went over $1 billion in 1994 dollars. Ministers and iwi have been talking quietly behind the scenes for some time as many believe the $1 billion mark was passed some time ago and the Tuhoe deal will definitely take it over the line. Negotiations have involved what should be included in the calculation and what form compensation will take. These will have to be made public eventually.